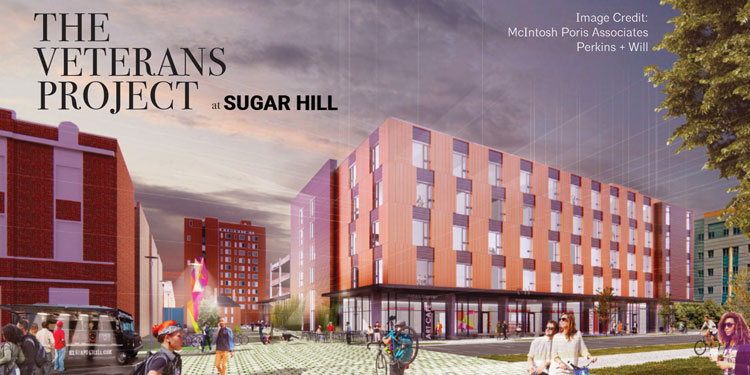 April 14, 2021
AIA Detroit, in collaboration local chapters of the Interior Designers Coalition for Change (IDCFC), the International Interior Design Association (IIDA), and American Society of Interior Designers (ASID), and in partnership with Preservation of Affordable Housing (POAH), Develop Detroit, and Volunteers of America (VOA), is calling for teams that will employ trauma-informed design to finish 14 apartments for veterans in the nearly-completed Sugar Hill project in Midtown Detroit.
SIGN UP TO BE CONSIDERED FOR A TEAM HERE
THE TEAMS:
Each team will consist of 5-8 individuals from across Michigan, and is to have at least:
• 1 Architect
• 1 Emerging Professional (recently graduated, unlicensed)
• 1 Interior Designer
• 2 Students (not required, but strongly encouraged)
This cross-discipline approach to the team will ensure a variety of perspectives are represented throughout the process. You do NOT need an entire team to sign up, professionals and students are welcome to sign up individually. Final teams will be organized and assembled after registration closes; registration here does NOT guarantee selection for the final 14 teams.
Download the Team Informational Packet Here
PROJECT SCHEDULE:
MAY 17 – Prospective Team Member Info Session: a virtual event to answer questions before team registrations are due – click the link to view the recording!
MAY 24, 12:00pm – Team & Individual Registrations are Due
MAY 24-28 – Final teams are assembled & contacted
JUNE 1 – Team Orientation: a mandatory virtual session for team members to learn more about project details and receive trauma-informed design training
JUNE 13 – IDCFC Cornhole Tournament: some light-hearted competition with the other teams + a major project fundraiser, sign up to play or sponsor!
JUNE-JULY 30 – Team fundraising, design work & order placements
AUGUST-SEPTEMBER 15 – Apartments are furnished & decorated by teams
LATE SEPTEMBER – Public-facing event to discuss teams' processes & trauma-informed design
If you are interested in sponsoring this Project, please visit the IDCFC Cornhole Tournament page & select your preferred sponsorship!
If you are a vendor and have other services/products you can offer the Veterans Project at Sugar Hill, please fill out the Vendor Survey on IDCFC's website.

ABOUT TRAUMA-INFORMED DESIGN:
Trauma is pervasive among American adults and can lead to lifelong physical and mental health consequences. It not only can have a lasting impact on the body and brain, but also, if left unaddressed, can negatively impact resident and community success. (more…)