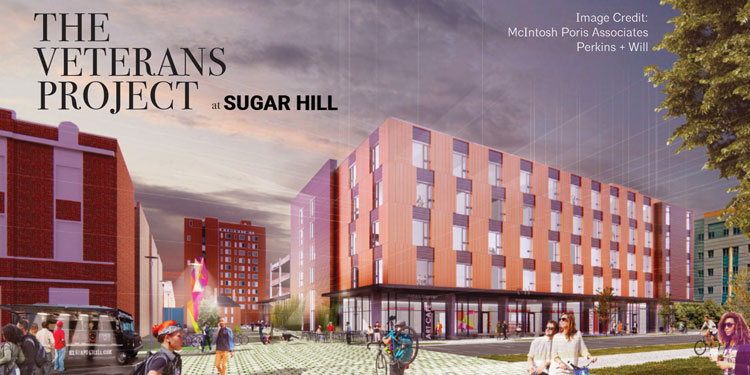 April 14, 2021
AIA Detroit, in collaboration local chapters of the Interior Designers Coalition for Change (IDCFC), the International Interior Design Association (IIDA), and American Society of Interior Designers (ASID), and in partnership with Preservation of Affordable Housing (POAH), Develop Detroit, and Volunteers of America (VOA), is calling for teams that will employ trauma-informed design to finish 14 apartments for veterans in the nearly-completed Sugar Hill project in Midtown Detroit.
SIGN UP TO BE CONSIDERED FOR A TEAM HERE
THE TEAMS:
Each team will consist of 5-8 individuals from across Michigan, and is to have at least:
• 1 Architect
• 1 Emerging Professional (recently graduated, unlicensed)
• 1 Interior Designer
• 2 Students (not required, but strongly encouraged)
This cross-discipline approach to the team will ensure a variety of perspectives are represented throughout the process. You do NOT need an entire team to sign up, professionals and students are welcome to sign up individually. Final teams will be organized and assembled after registration closes; registration here does NOT guarantee selection for the final 14 teams.
Download the Team Informational Packet Here
PROJECT SCHEDULE:
MAY 17 – Prospective Team Member Info Session: a virtual event to answer questions before team registrations are due – click the link to view the recording!
MAY 24, 12:00pm – Team & Individual Registrations are Due
MAY 24-28 – Final teams are assembled & contacted
JUNE 1 – Team Orientation: a mandatory virtual session for team members to learn more about project details and receive trauma-informed design training
JUNE 13 – IDCFC Cornhole Tournament: some light-hearted competition with the other teams + a major project fundraiser, sign up to play or sponsor!
JUNE-JULY 30 – Team fundraising, design work & order placements
AUGUST-SEPTEMBER 15 – Apartments are furnished & decorated by teams
LATE SEPTEMBER – Public-facing event to discuss teams' processes & trauma-informed design
If you are interested in sponsoring this Project, please visit the IDCFC Cornhole Tournament page & select your preferred sponsorship!
If you are a vendor and have other services/products you can offer the Veterans Project at Sugar Hill, please fill out the Vendor Survey on IDCFC's website.

ABOUT TRAUMA-INFORMED DESIGN:
Trauma is pervasive among American adults and can lead to lifelong physical and mental health consequences. It not only can have a lasting impact on the body and brain, but also, if left unaddressed, can negatively impact resident and community success.
However, the negative impacts of trauma can be mitigated utilizing principles of trauma-informed design to build resilience. When people who have experienced trauma build resilience, it can be an effective way to recover and heal. While trauma-informed design has been tested and proven to strengthen outcomes in healthcare and education, it has not been fully embraced in affordable rental housing.
Sugar Hill aims to tackle this issue. By involving local design organizations, the goal is to not only provide professionally designed, safe spaces for 14 veterans to call home, but to educate the Southeastern Michigan design community on trauma-informed design, especially since it disproportionately impacts people of color.
HISTORY OF SUGAR HILL AND THE SUGAR HILL ARTS DISTRICT: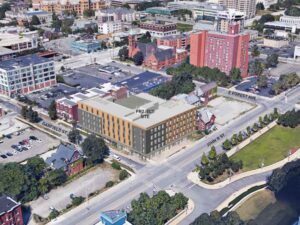 The Sugar Hill Development is a contemporary mixed-use building that will support inclusive growth of the Sugar Hill Historic District as a cultural, commercial, and residential destination.
Preservation of Affordable Housing, Inc. (POAH) has partnered with nonprofit Develop Detroit and the City of Detroit and to build a new mixed-use, mixed-income development in the historic Sugar Hill Arts District in Midtown Detroit.
The $36 million project will transform one acre of vacant space into 68 new mixed-income apartments and 11,000 square feet of commercial space. Of the new units, 25% will be designated as affordable housing for residents making up to 80 percent of the area median income. The new project will feature studios and, one- and two-bedroom apartments ranging in size from 475 to 1,000 square feet. The development will also include a 160-space parking garage for residents and visitors along with green alleyways, all anchored by commercial and retail space. The site is across from the John D. Dingell VA Medical Center, and many of its affordable apartments will be targeted to formerly homeless veterans served by the HUD-VASH voucher program.
The Sugar Hill Mixed-Use Development will create a vibrant concentration of urban vitality in one of Detroit's most dynamic emerging districts, reflecting Detroit's rebirth as a pedestrian-oriented urban destination that is increasingly desirable for businesses, residents, and visitors. The development builds upon and reinforces the concept of creating a highly walkable micro urban environment within the Sugar Hill Arts District featuring a tightly woven network of pedestrian streets and alleys.
The development is one of the last projects by Phil Freelon, one of the most celebrated Black architects in U.S. history. Freelon – whose works include the Smithsonian National Museum of African-American History and Culture in Washington and Atlanta's National Center for Civil and Human Rights – passed away in 2019.
Sugar Hill was a thriving entertainment/nightlife district in the 1940s-1960s, with many African-American-owned establishments. The Sugar Hill Arts District was designated a national and local historic district in 2002, based on its history as a center of Detroit jazz and entertainment venues serving diverse audiences. Today, Sugar Hill features a combination of residential, mixed-use, and arts-related businesses, and is home to cultural anchors such as the Museum of Contemporary Art Detroit (MOCAD) and the N'Namdi Center for Contemporary Art.

Sponsored by Victor, the CNA Insurance Companies, and the AIA Trust, providers of the AIA Trust Professional Liability, Business Owners, and Cyber Liability Insurance Programs