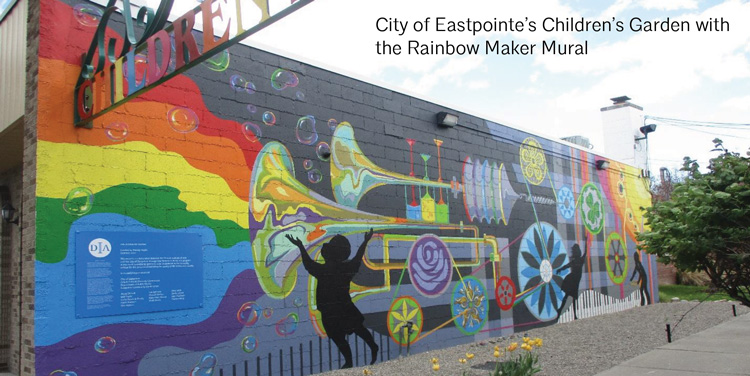 Date: January 29, 2022 | Time: 10:00am - 1:00pm - 3 AIA Health, Safety, Welfare (HSW) Credits
Through their Blueprint For Better Campaign and in conjunction with the Mayors Innovation Project, The American Institute of Architects (AIA) have offered 3 cities the opportunity to partner with architects from their local AIA chapter to tackle a local renovation with a reuse or retrofit challenge that aims to reduce environmental impact and equitably serve the surrounding community.
EASTPOINT MARKETPLACE PROJECT OVERVIEW
Inspired by their new Rainbow Maker mural and Children's Garden, Eastpointe developed the idea of creating a multi-use public gathering space, creating opportunities for local artists and vendors, while enhancing the walkability of the DDA District and supporting local businesses.
With the help and expertise of AIA Detroit architects and city stakeholders, the City of Eastpointe is looking to design a permanent weekend market & event place, similar to a farmer's market, in the large, city-owned parking lot between the Children's Garden and the Library.
RSVP HERE FOR THE JANUARY 29th CHARRETTE
AIA Detroit is organizing a charrette for virtual and in-person designers to get a better understanding of the project and help brainstorm ideas that the City will be able to use at a later time.
We are looking for YOUR expertise and vision. Attendees will do a walk-through of the site, go over project details, then split into groups based on different project goals:
Pedestrian connections & wayfinding
Green stormwater infrastructure integration
Market shade structures
Performance/event space
GET INVOLVED!
Sign up to participate in the Saturday charrette! As stated before, we are offering both virtual and in-person attendance. There will be breakfast for in-person attendees, and everyone will get a tour of the site before breaking out into groups. This is a great opportunity to be involved in a project that could dramatically change a city's health and wellbeing.