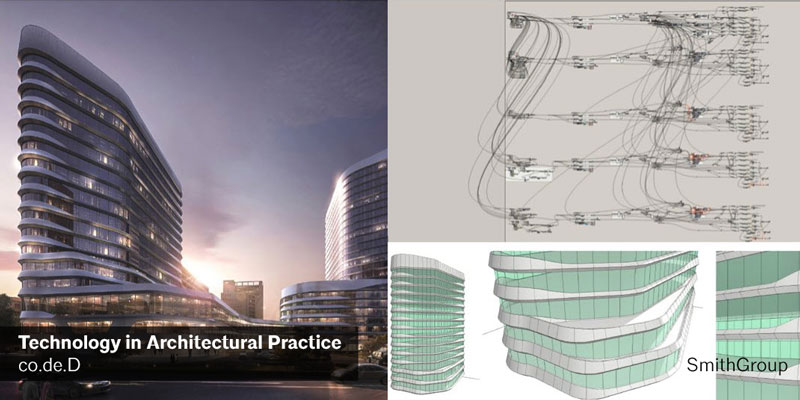 Date: February 22, 2020 | Time: 8:30am - 6:00pm - 6 AIA Learning Units (LU)
Join co.de.D (Compuational Design Detroit) for a Grasshopper and Dynamo Weekend Workshop for Beginners.
HEAR FROM THE COMPUTATIONAL DESIGN CHAIRS WHY YOU SHOULD ATTEND
Want to learn grasshopper or dynamo but can't find the time? Co.de.D is here to help. We are hosting a training workshop where expert lecturers will help you through a 6-part introductory course in either Dynamo or Grasshopper. Arrive a beginner and leave with the skills you need to stay relevant in the 2020's.
Agenda:
8:30am – 9:00am – sign in, network, light breakfast (Avalon Bakery)
9:00am – 12:00pm – Sessions 1 & 2
12:00pm – 1:00pm – Networking lunch (Slows Barbecue)
1:00pm – 3:00pm – Sessions 3 & 4
3:30pm – 5:30pm – Sessions 5 & 6
5:30pm – 6:00pm – Closing
6:00pm + Happy Hour Celebration
All attendees are required to bring their own laptops and install prerequisite software prior to arriving. **Trial versions are available for those without licenses.**
If you would like to volunteer or are interested in group discounts or firm sponsorships, please contact us at coded@aiadetroit.com.
Future workshops will include intermediate and advanced courses!
EARLY BIRD RATES END FEB 12: REGISTER HERE
TRACK 1: INTRODUCTION TO GRASSHOPPER
Skill Level: Beginner
Requirements: Install Rhino 6 prior to arriving. Grasshopper is included in Rhino 6.
Workshop Description:
This beginner course requires no Rhino or Grasshopper knowledge and is intended as a 6-week introductory course to parametric modeling. In addition to learning the fundamentals of the grasshopper interface, attendees will learn about the principles of parametric thinking, data management, and how to approach design problems algorithmically.
About the Instructor:
Leland Curtis is the Co-Leader of Computational Design within SmithGroup's Technology In Practice group. He has spent the past 7 years developing grasshopper-based workflows for a wide variety of projects across the world. His experience encompasses all scales including urban master planning, building form development, responsive façade design, and pattern generation. He specializes in developing workflows that leverage automation and analytics to, explore, inform, and optimize architecture.
Session 1: Navigating the Interface
Objectives:
• Explain the concept of parametric modeling.
• Access online resources and forums.
• Launch and use the basic elements of the Grasshopper interface.
• Locate and use components, panels and sliders to create definitions.
Session 2: Basic Definitions, Vectors and Surfaces
Objectives:
• Create basic definitions.
• Define points using geometries from Rhino and X, Y, Z coordinates.
• Use vectors and numerical inputs to move geometries.
• Construct basic surfaces & using the series function.
Session 3: Domain, Bounds and Range
Objectives:
• Utilize domain, bounds, series and range.
• Use range to create sets of points.
• Create lines from points.
• Use evaluation tools to find the length of the created lines.
Session 4: Creating and Using Geometry
Objectives:
• Use numerical inputs to create geometry.
• Use GH geometry + mathematical inputs to spawn dependent geometry.
• Use evaluation components to extract geometry properties.
• Apply data branches.
Session 5: Driving Geometries with Math
Objectives:
• Use complex mathematics to generate geometry (graph mapper/expression).
• Remap values reusing mathematical relationships at different scales.
• Encapsulate, organize, and note the definition.
• Transition from a point to a line, to a surface, to a solid.
Session 6: Labels, Dimensions and Fabrication
Objectives:
• Add labels.
• Flatten and layout geometry on grid.
• Add dimensional information.
• Prepare geometry for fabrication.
TRACK 2: INTRODUCTION TO DYNAMO
Skill Level: Beginner
Requirements: Install Revit 2018-2020 prior to arriving. Dynamo is included with Revit.
Workshop Description:
During this workshop, you will learn about the Dynamo environment focusing on how to efficiently create scripts for workflow enhancement. We will discuss the foundation of Visual Programming and review how to create geometry for Computational Design. A large portion of the workshop will focus on the Dynamo to Revit connection and how you can generate designs to create modeling elements for your projects. You will then learn about custom nodes and Dynamo Packages that will enhance your scripts. We will finish by reviewing best practices in Dynamo and discuss real world examples of how the proper script can amplify any workflow.
About the Instructor:
Stephen Bessette is a Construction Subject Matter Expert for Autodesk, Inc., providing technical sales assistance for the BIM 360 Construction Platform, Navisworks software, Revit software, and Advance Steel software. He is a graduate of the NHTI Architectural Engineering Technology program, as well as a certified computer-aided draftsman. Bessette has over 15 years of experience within the design and construction industry, including fire protection design, residential design, construction management and estimating, land surveying, quality control of construction materials, and structural steel inspection. In addition, Stephen has instructed technical classes for AutoCAD based software and its 3D functionalities at NHTI in Concord, New Hampshire.
Session 1: Hello Dynamo!
Objectives:
• What is Visual Programming
• What is Dynamo
• Dynamo in Action
• Accessing Dynamo
• The User Interface
• The Workspace
Session 2: Anatomy of Visual Programing
Objectives:
• Creating Graphs (Nodes | Connections)
• Data Management
• Revit to Excel | Excel to Revit
• Code Blocks
Session 3: Geometry for Computational Design
Objectives:
• Understand the basics of geometry within Dynamo
• Create basic geometry within Dynamo
• Computational Logic
Session 4: The Revit Connection
Objectives:
• Understand the Revit Connection
• Be able to create and edit Revit elements
• Using geographical information to customize elements
• Generate documentation of changes to objects
Session 5: Custom Nodes & Packages
Objectives:
• How to create a custom node
• Understand the Python | Revit | Dynamo connection
• How to use custom Packages
Session 6: Dynamo Best Practices
Objectives:
• Understand best practices on creating Graphs, and Scripts
• Understand when and when not to use Dynamo