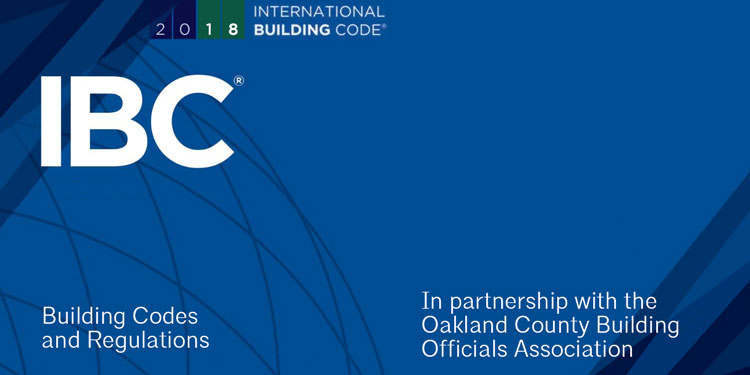 Date: November 19, 2020 | Time: 9:00am - 4:00pm - 6 AIA Health, Safety, Welfare (HSW) Credits
An ICC event in partnership with the Oakland County Building Officials Association
6 Health, Safety, Welfare (HSW) AIA Credit will be provided.
Agenda:
9:00am – 10:30am: 2018 IBC Mixed Occupancies
10:30am – 10:45am: Break
10:45am – 12:00pm: 2018 IBC Mixed Occupancies
12:00pm – 1:00pm: Lunch Break
1:00pm – 2:30pm: 2018 IBC and IFC Use of Fire Sprinkler and Alarm Systems
2:30pm – 2:45pm: Break
2:45pm – 4:00pm: 2018 IBC and IFC Use of Fire Sprinkler and Alarm Systems
2018 IBC Mixed Occupancies:
Based on the provisions of IBC Section 508, this seminar addresses those special requirements applicable to buildings containing two or more occupancy classifications. The three mixed-occupancy options are presented along with examples and exercises that illustrate the proper application of the provisions. This seminar is designed to familiarize and assist code officials in locating, describing and applying IBC requirements regarding mixed occupancies.
Learning Objectives:
Define the concept for addressing mixed-occupancy buildings.
Identify and apply the three options that are available for regulating mixed-occupancy buildings.
Describe the relationship of occupancy classification, allowable height, allowable area and occupancy separation to mixed-occupancy buildings.
Identify incidental uses and understand how they differ from mixed-occupancy conditions.
2018 IBC and IFC Use of Fire Sprinkler and Alarm Systems (afternoon Presentation):
This seminar identifies those conditions under which automatic sprinkler protection and/or fire alarm systems are required. The application of the fire area concept will be discussed, along with the varying extent of sprinkler protection required based upon specific situations. In addition, the discussion will address many of the key code conditions under which the presence of an automatic sprinkler system can be used to modify other requirements.
Specific topics include:
• Overview of fire protection systems
• Definition and application of fire areas
• Required sprinkler and alarm protection based on occupancy classification
• Optional use of automatic sprinkler systems.
SPEAKER INFO

John M. Gibson, International Code Council
John is a Technical Advisor and Instructor for the International Code Council (ICC). A certified Master Code Professional and Certified Fire Marshal; he has forty (40) other certifications, including thirty- three (33) from the ICC. Having earned a B.S. in Engineering from the University of Delaware, he has also studied Architecture at Georgia Tech and completed courses in Emergency Management and Fire Prevention at the National Emergency Training Center. Formerly the Director of the Department of Permits and Inspections for Frederick County Maryland, he is an ICC Honorary Member, has served on the ICC- Evaluations Services (ICC- ES) Board of Directors, the ICC Code Correlating Committee, the Board of Directors for BOCA International, Inc., Maryland's Governor's Smart Code Strategy Group, Chaired the ICC Board for International Professional Standards and is an Honorary Member and Past President of the Maryland Building Officials Association. He currently teaches ICC administrative, building, residential, existing building, property maintenance, zoning, green building, wildland/urban interface, energy courses, and is a contract instructor at the Dept. of Homeland Security, United States Fire Administration, National Fire Academy, and Emmitsburg, MD. He received the ICC Educator of the Year award in 2010.