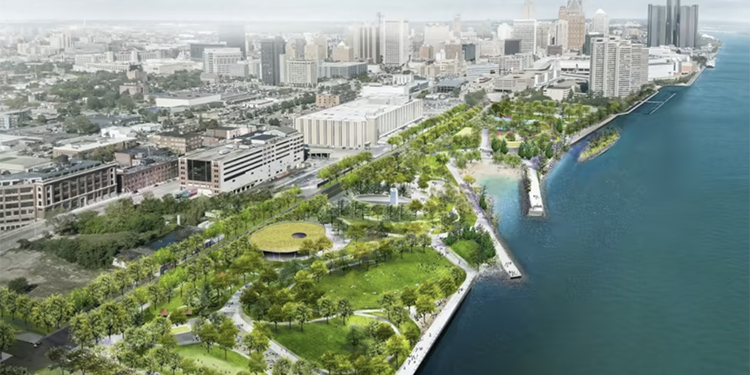 January 17, 2023
Cassidy Johncox, Senior News Editor | ClickOnDetroit
Water garden a main feature at Detroit's Ralph C. Wilson, Jr. Centennial Park
DETROIT – A 2.5-acre water garden is coming to the new Ralph C. Wilson, Jr. Centennial Park located along Detroit's West Riverfront.
The 22-acre park is currently under construction and set to open on the West Riverfront in 2024. Just near Corktown, the park is expected to feature four main attractions — including the water garden, which was just named the Huron-Clinton Metroparks Water Garden, officials said Monday, Jan. 10. It will be the first Metroparks location in Detroit.
In addition to regular visitors, the water garden will also provide educational opportunities and programming for students, officials said Monday. The garden will reportedly feature winding walking paths, tranquil seating areas, educational signage and open-air classrooms.
The Metroparks are working to increase access to their services in Detroit and all throughout Wayne County as part of their new strategic plan.
"The naming of the Water Garden is incredibly exciting for us," said Amy McMillan, director of Huron-Clinton Metroparks. "The Metroparks form a greenbelt of vibrant active and natural spaces around the Metro Detroit region, but for decades there has been a gap in Metroparks presence within the city of Detroit. We are finally making progress towards closing that gap and establishing a physical presence that residents can engage with daily. We know we still have a lot of work to do, but we are grateful for this strong partnership that is helping us realize progress towards that goal."
The other major attractions at the Ralph C. Wilson, Jr. Centennial Park include the William Davidson Sport House, the Delta Dental Play Garden and the DTE Foundation lawn. Construction broke ground in May 2022, though the conservancy has been working toward the redevelop of the West Riverfront for years.
The park is part of the conservancy's plan to develop 5.5 miles of revitalized riverfront in an effort to "dramatically change the landscape along the downtown riverfront," and likely "significantly boost economic benefit in the area as well."
Learn more about the project on the conservancy's website here.
Read the original article here.