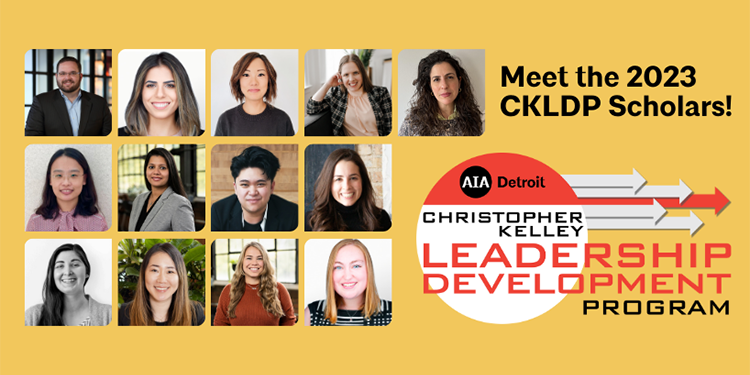 February 21, 2023
AIA Detroit is pleased to introduce our 2023 Christopher Kelley Leadership Development Scholars!
GET TO KNOW THIS YEAR'S COHORT:
Bio:
Martyna's journey as an architect started with an Architecture and Urban Planning degree from the Warsaw University of Technology. After moving to Detroit, and receiving her Master, she has spent her career focused on planning and designing facilities for renowned healthcare systems across the country. Her experience encompasses an array of service lines and project types including acute care, oncology, emergency, surgical, imaging, and diagnostic and ambulatory care to name a few.
Martyna believes the key to better patient outcomes is listening and providing an exceptional environment for staff and caregivers. Utilizing Evidence-Based Design and Lean Six Sigma training, she enjoys approaching each space with an analytical eye to design effective spaces. She collaborates with multidisciplinary design teams to implement innovative solutions that enable her clients to maximize the value of their facility assets, enhance staff and patient satisfaction, and improve patient outcomes.
Bio:
Originally from Connecticut, Charlotte is a staff designer at Quinn Evans working towards becoming a licensed architect. She received a bachelor's degree in Architectural Studies and Museum Studies from Connecticut College and a Master of Architecture from the University of Michigan.
Charlotte is passionate about preserving history and culture through buildings while bringing them into the future giving them a new purpose. She enjoys unlocking the potential of existing buildings and unleashing new and innovative possibilities – with respect for the heritage of the communities and the integrity of the building's original design.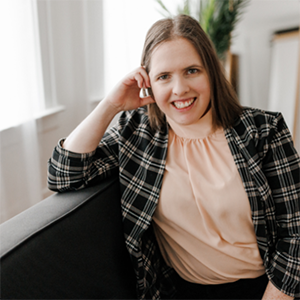 Jessica Gilbert
Krieger Klatt Architects
Bio:
Jessica is the Studio Director at Krieger Klatt Architects. She has a Bachelor of Science in Architecture and a Bachelor of Interior Architecture from Lawrence Technological University and a Master of Architecture from Boston Architectural College. Jessica is excited to participate in the 2023 cohort of AIA Detroit's CKLDP and expand her leadership skills and professional network.
With a passion for creating spaces that improve connections and community, Jessica enjoys reading about communication styles and following research and projects related to community and interactions. Jessica also enjoys traveling and exploring built environments. With 12 states and 8 countries visited, she is always looking for new places to see.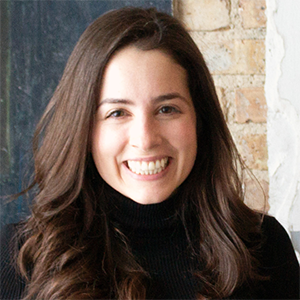 Zara Gilbert
Von Staden Architects
Bio:
Zara Gilbert is an Architectural Designer at vonStaden Architects in Royal Oak, MI. She graduated from The University of Michigan in 2013 with a Bachelor of Science in Architecture and not long after receiving her Master in Architecture from Columbia University in New York City. Before returning to Michigan, she worked at Gensler in NYC as a project architect, specifically working on corporate interior build-outs for large companies in the city.
Currently, Zara is a project leader for some of her firm's residential projects. She interfaces with clients and is involved with all phases of a project. Her strengths lie in her ability to facilitate communication between the various teams working on a project. In her spare time she enjoys lifting weights at her local gym!
Bio:
Dr. Rutali Joshi is a Sr. Design Researcher at HKS. Her strong foundation in research methodology positions her to support the health practice by developing evidence-based design solutions that impact human experience, behavior, and safety. She has extensively conducted research in a variety of healthcare settings ranging from domestic violence shelter homes and homes for the aging population to emergency departments, operating rooms, and ambulatory surgery centers. She is extremely passionate about developing visual means to translate complex research concepts and findings to actionable design strategies. She is a speaker at several national and international conferences and actively publishes in scholarly journals. Rutali obtained her Ph.D. with a focus on Architecture and Health from Clemson University, a Master of Science degree in Architecture from Clemson University, and a bachelor's degree in Architecture from the Academy of Architecture in Mumbai, India.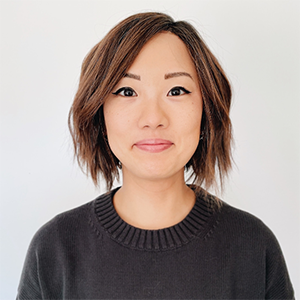 Ai Kawashima
Kendall/Heaton Associates
Bio:
Ai Kawashima is a registered architect and a member of the American Institute of Architects, with over fourteen years of experience ranging from Schematic Design through production and Construction Administration. Ai joined Kendall/Heaton Associates in 2008 and has been responsible for managing a diverse portfolio of projects including museums, offices, retail, residential, and hotel high rises. Her most recent project is Hudson's, a mixed-use high-rise project in Detroit, Michigan.
In her role as Project Manager, Ai has overseen more than 5,000,000 square feet of office construction; her knowledge of building technical systems and the ability to coordinate consultant input brings great value to the Kendall/Heaton team. Outside of work, Ai enjoys making art and being outdoors, especially camping, hiking, and running.
Estrellita Ledesma
Studio Detroit
Bio:
Estrellita holds a Master of Architecture from the University of Detroit Mercy and is a licensed architect in the state of Michigan. Her passion for design and making was fostered in school and abroad throughout Poland and Europe.
She is currently a project manager at Studio Detroit and is involved in every step of truly unique and one-of-a-kind projects, Estrellita is eager to contribute her design and technical skills to aid in the successful completion of any project. Her enthusiasm extends beyond the workplace as a user group member and beta tester for Enscape as well as leading initiatives to support ARE licensure candidates.
Bio:
With more than 9 years of experience, Seul Lee is a design strategist in the higher education studio at SmithGroup. Through various scales of higher education project experience, Seul approaches every project from a systemic perspective. Her design research and programming expertise facilitate the development of design solutions and organizational recommendations.
Seul's best interest is in building strategies together with clients that respond to each project's unique circumstances, supporting pedagogy and learning experiences.
Bio:
Yichen Lu is a licensed architect at Gensler Detroit. Her role includes facilitating all phases of design, performing building code analysis, preparing submittals, and assisting with construction administration. Her main practice areas include education, residential, and workspace.
Previously, Yichen worked as a staff architect at PQH Group in Jacksonville, FL. She received her Bachelor of Architecture degree from China in 2017 and her Master of Architecture degree from the University of Michigan in 2019, with her thesis focusing on providing equally accessible architecture to everyone.
Bio:
Carla Pareja is a registered architect in both Michigan and Ontario and has been practicing architecture, landscape architecture, and urban design for over 14 years. Her progressive design experience spans a wide range of project types and sizes, primarily community-based institutional projects and urban multi-family residential developments. Her focus is on providing place-making and inclusion, whether it be on a campus or vacant site. Carla's landscape architecture experience contributes to her site-sensitive planning skill set and overall design approach.
Originally from Toronto, Carla moved to Detroit in 2018 to become involved in the city's resurgence through architecture. Her love of community is what motivates her, and she seeks endeavors extending beyond her professional community. Carla serves as a guest critic at academic design reviews and takes part in community engagement activities.
Bio:
Nicholas is an architectural designer at ROSSETTI in Detroit, Michigan with experience in hospitality, entertainment, and sports stadiums. He is a recent Master's graduate of Lawrence Technological University and is an active leader in local and international design-related organizations including the Architecture is Free Foundation.
His passions are innovation, fabrication, social issues, and sustainability. Having experience with design simulation software, he is advancing research and practice in energy modeling and other emerging technologies. In his extra time, he enjoys 3D printing, organizing creative network gatherings, and creating immersive art installations. Nicholas is working towards architectural licensure and continues to be inspired by art, travel, and fellow designers.
Bio:
Cynthia Saadeh is a designer with a bachelor's in interior design and a master's in architecture. This background allows her to apply creativity, innovation, and functional solutions to each project. She is currently working as a designer at Quinn Evans Architects, where her beliefs and mission align. Her goal is to be part of positive changes in designing more sustainable structures and communities for today's environment. She's been a part of residential, commercial, and hospitality projects where she worked with a team on new constructions and renovations.
Her artistic ability has influenced her architectural designs and allowed her to think outside the box. Art has always been a big part of her life and she enjoys painting and drawing during her free time. Her love for travel has taken her to many different locations where she got introduced to a variety of cultures and architecture.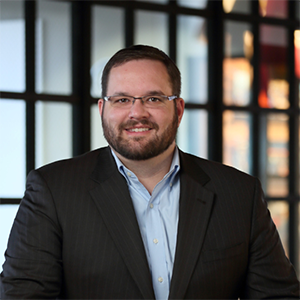 John Whitten
Spark 43 Architects
Bio:
John is the founding principal of Spark 43 Architects in Grand Rapids, MI. He is a Colorado native who relocated to Michigan in 2014 to better serve his clients. His passion for community work, social justice, and disability rights lead him to found Spark 43 in 2017 with the goal of using his experience, talents, and business to advocate for and enhance his community.
He believes wholeheartedly in the concept of the Citizen Architect. He was appointed to the State of Michigan Elevator Safety Board to represent Architects and Consulting Engineers by Gov. Gretchen Whitmer. Additionally, John serves as a board member for the West Michigan Adaptive Ski Association, Grand Rapids FD Fire Prevention Foundation, and as an advisory council member for the West Michigan Sports Commission and Montana State University School of Architecture and was the inaugural Chairperson for the "Absolutely Accessible Kent" event with Disability Advocates of Kent County. John, his wife Melinda (a landscape architect), daughter, son, and dog live in Grand Rapids.