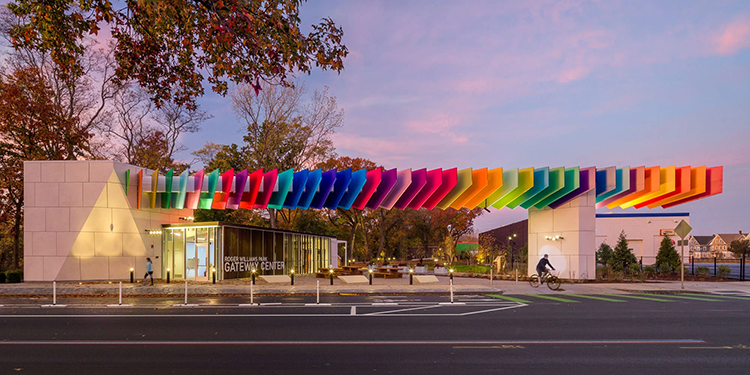 March 20, 2023
James McCown | Metropolis
Photography: Steve Kroodsma
The Roger Williams Park Gateway Center transforms a formerly vacant site into an inclusive public space and entrance to Rhode Island's 500-acre Roger Williams Park.
Providence, Rhode Island, which declined in the 1950s into a working-class backwater, has emerged as a hip New England city attracting young professionals and retirees alike, while capitalizing on the presence of two prestigious educational institutions—Brown University and Rhode Island School of Design (RISD).
When it came time to build a new entrance to the 500-acre Roger Williams Park, the crown jewel of its park system, Providence held a national design competition and picked, counterintuitively, a Detroit-based firm, INFORM Studio. The site had been burned-out buildings and junked cars.
An Inclusive Entrance for Providence's Premier Park
"We took it by eminent domain," says Bonnie Nickerson, who just stepped away after eight years as City Planning Director and executive director of the Providence Redevelopment Agency. The new gateway, she continues, "is both an entrance to the park in one direction and an entrance to the Broad Street corridor on the other. Broad Street leads to downtown and is a vibrant mix of businesses." She adds these include many Latin American bodegas and restaurants.
The gateway, completed in late fall 2022, was a modest undertaking—a $5 million project cost. But nonetheless the competition attracted numerous prominent architects, including designLAB, Ross Barney Architects, Ultramoderne, and Union Studio Architecture & Community Design.
"It doesn't matter how modest the project cost was," says Michael Guthrie, principal at INFORM Studio. "The city's ambition for the gateway was high. We kept hearing from Providence: 'Innovation through design excellence.' I think we won the competition through a combination of color and a sense that it be a place of inclusion and reflective of the largely Latin American residential neighborhood next door." Providence-based Design Under Sky was the collaborating landscape architect.
A Colorful Urban Amenity
The finished gateway comprises two sintered stone "anchors" and an overhead of riotously colored aluminum fins. The color of the fins was drawn from the businesses along Broad Street, Nickerson says.
"The anchors are meant to be a neutral backdrop to all of the colorful fins," says Cory Lavigne, chief design officer at INFORM. "They are also a reference to some great stone buildings in the park, like the marble Temple to Music." The Gateway Center is a glass cube pavilion that will be fully staffed and aid citizens in appreciating what the park has to offer, which includes the Museum of Natural History and Planetarium. Crucially, the Gateway Center will have public bathrooms and a place for neighborhood events. It is a net-zero energy project.
Untold community meetings and charrettes were performed to bring the neighbors into the process. Nickerson says that the adjoining residential neighborhood suffers as it has been "traditionally underinvested in." Architecturally, it is classic working-class New England: triple deckers and other multifamily buildings, as well as single-family houses.
As a separate project, Nickerson continues, the city put an emphasis on renovation and improvements along the Broad Street corridor. This included more affordable housing, improving the streets and their sense of the public realm, and renovating the landmark Bomes Theatre, which mounts plays and musical performances, including those in Spanish.
For his part, Guthrie was most gratified by the public outreach experience. "Development in Providence is a passionate issue. You have a lot of people in favor of something and a lot of people opposed." But that's a good thing, he concludes: "It's better than indifference."