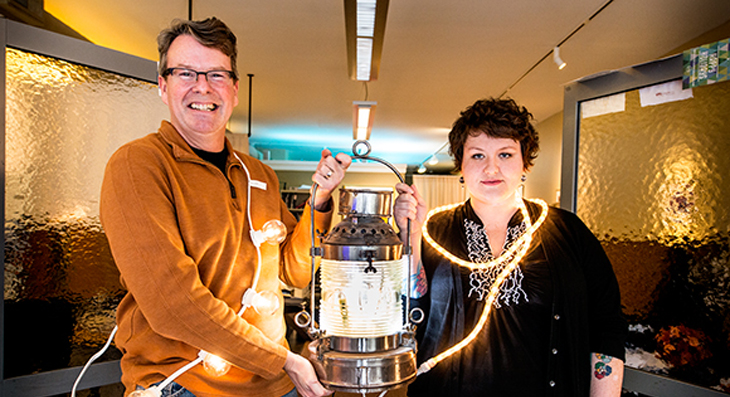 February 6, 2015
AIA Detroit has proudly partnered with the talented folks at Illuminart for the past two years, so we were super excited to see Brienne Willcock and Robert White featured on concentratemedia.com. Illuminart is the designing force behind the lighting at Shed 3 for our 2013 & 2014 Celebration of Architecture; the cobalt blue and fuschia lighting schemes that you could see from down the street in Eastern Market are all because these guys know how to light a building. They also helped to pull in Fantasee Lighting, who brings the equipment and skilled labor needed to bring to life Brienne's concept for the building. We are eternally grateful for these folks, they certainly deserve the media attention.
The below article was originally featured on concentratemedia.com on Feb. 4th, 2015. It was written by Patrick Dunn, an Ann Arbor-based freelance writer and a senior writer at Concentrate and Metromode, and the photographs featured in the original article were taken by Doug Coombe.
To see the article in its original publication and to view more photos taken during their interview, visit Concentrate Media's website HERE.
Illuminart: Thinking Smart About Lighting
PATRICK DUNN | WEDNESDAY, FEBRUARY 04, 2015 | CONCENTRATEMEDIA.COM
If you're surprised to learn that Ypsilanti is home to an international firm specializing in lighting design, you're in good company. Brienne Willcock was surprised too, and she actually works there.
"The lighting aspect of interior design was the thing I always had done first, and was sort of my obsession, so it sort of worked out," she says. "But I didn't realize that lighting was a career, actually, when I was in school."
Willcock is a lighting designer at Illuminart, which has operated out of Ypsi since 1984. She describes herself and her colleagues as "lighting architects."
"Controls, daylighting, equipment and then the artistic, sort of conceptual side of it– we make decisions based on all those things combined," she says. "And then we pass it along, like an architect would, to general contractors and electrical contractors."
Illuminart works only on the conceptual side of the process, and doesn't sell or install fixtures, electronics or any other physical part of the lighting it designs. Willcock says Illuminart's designers take that approach to preserve integrity in their work, as well as to uphold professional obligation. The International Association of Lighting Designers prohibits members from publicly endorsing products.
"It means we're doing what's best for the client," Willcock says. "There's no financial incentive for us to prefer one product over another."
So where does this organized and highly specialized industry come from? Willcock says demand for well-informed lighting design has risen sharply in recent years due to growing awareness of the need for sustainable building practices. She says in some cases the desire to build sustainably has translated to lighting designs that use little energy, but poorly serve their basic function: creating a welcoming and functional environment.
"There might be low-energy lighting, but it might be awful or it might be uncomfortable for people or it might not be enough lighting," she says. "That balance of sustainability and considering what's best for people, the human factor side of it, is a balance that requires a special group of people to address."
Willcock says the rise of LED lighting has also helped to boost her industry's profile. She says LED technology is still developing at a "fairly alarming pace," equivalent to that of smartphones or computers, that can be challenging even for her and her colleagues to keep up with.
"It moves so quickly that by the time you really obtain something, a light fixture that's LED, it's out of date in some ways," Willcock says.
In addition to the energy-saving benefits of LED lighting, Willcock says daylighting has also become hugely important to her field. That's the practice of strategically using natural light to supplant electric lighting.
"Not only is electric lighting changing so rapidly that it's difficult to keep up with, but it's also expensive," Willcock says. "Daylight is free, and forever. It keeps coming back. It's pretty predictable."
Several states have now adopted building codes requiring the installation of controls that automatically dim electric lighting when daylight is adequately illuminating a space. But Willcock says Michigan is still "a little behind" on that, and on many aspects of progressive lighting design and energy usage. She says that's due in part to the high concentration of sustainability-minded designers on the West Coast. Plus, she says, California is an ideal environment, "economically and climate-wise, to develop some of those goals and standards and push them forward."
"It actually doesn't bother me that the innovation comes out of the West Coast or the East Coast, and then infiltrates the rest of the U.S," she says. "It has to come from somewhere."
However, Willcock says differences in approach can be striking when comparing a project for one of Illuminart's international clients to something closer to home.
"We do design work internationally where the budgets are just a whole other ball game, because they've got a lot of resources," she says. "And then here we use very simple payback metrics and we use economic analysis, and a lot of the time economic analysis wins."
Willcock says that's not necessarily the right way to do things. She says lighting originally fascinated her because she saw it as a natural way to focus design on a building's inhabitants, the way they perceive each other and the way they perceive their work. She says developers often underestimate the fact that the biggest investment in any building is its people.
"The people walking around on two feet are the most expensive part of the building: salaries, health benefits, and everything," she says. "If you consider what's best for them and look at the building that way, you're going to make decisions based on what's best for [them] because they are your most expensive part. But a lot of times here we deal with it differently in MIchigan. We look at it as if the building is just in a vacuum somewhere, without context, without occupants, without anything. It's just strictly a calculation of money."
However, that approach isn't uniform in Michigan. Willcock notes a number of inspiring and progressive-minded clients Illuminart has worked with locally, including General Motors, the Sisters and Servants of the Immaculate Heart of Mary and Cobo Center. While Michigan may still be behind some of its coastal and international counterparts, Willcock says there's still plenty of positive local momentum.
"We'll get there," Willcock says. "I don't think we're going to have a choice."