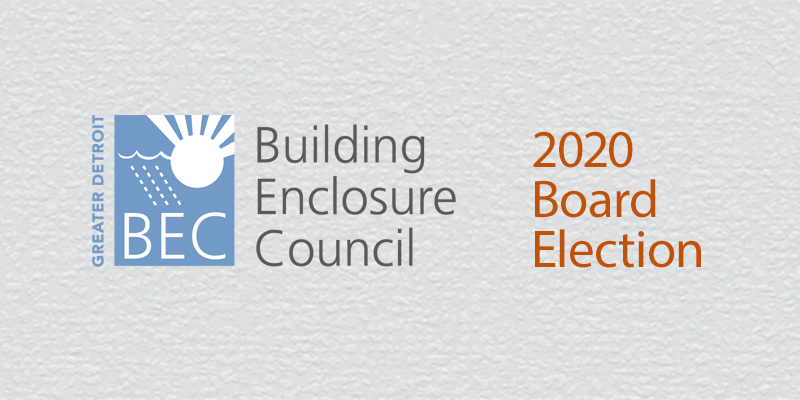 November 11, 2019
Please assist the Building Enclosure Council in selecting a new Director to serve on their committee!
VOTE FOR THE BEC BOARD OF DIRECTORS OPEN POSITION HERE!
Voting must be completed by 5pm on November 25th, 2019.
GET TO KNOW THIS YEAR'S CANDIDATES…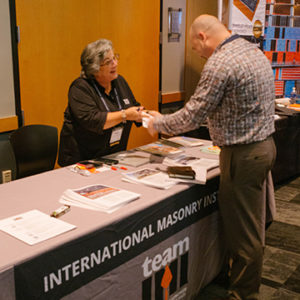 Maria Michalowski, AIA, NCARB, LEED AP BD+C
International Masonry Institute | See her Resume Here
Statement of Intent:
I would like to be considered for the Building Enclosure Council Board. Previously, I sat on several Boards prior to raising my children. Presently, I sit on the Commercial Owners Association of America as one of the Programs Co-Chairs. I am also a Mentor for the ACE mentoring program 2019/2020. Now that I am an empty nester again, it is time to give back to my profession.
I am the Michigan Director for the International Masonry Institute. At IMI we empower the Design and Construction Community to design and deliver efficient and economical masonry building systems. IMI has a uniquely diverse team of professional experts and highly trained skilled craftworkers. In other words, "Phone a Friend" from IMI or IMTEF. We offer an integrated suite of services from project inception through completion. IMI is constantly morphing to keep up and stay ahead of our time. At IMI we are passionate about masonry and our built environment. We desire to build a world that is fair, safe and equitable to all.
With that being said, the Building Enclosure Council goes hand in hand with the Masonry enclosures. I believe I would be an asset to the Building Enclosure Council.
Bio:
Maria has spent over thirty years in the Architectural and Construction Industry. Her first taste of construction was riding a bulldozer on her father's lap at four years old digging their swimming pool. Maria began her career working for her father as a finish carpenter on his commercial projects. Upon entering school as a non-traditional student, Maria continued until she obtained her Master of Architecture from Lawrence Technological University
Maria's breadth of experience ranges from small residential additions to over 70M dollar commercial projects. Her extensive training began with the small firm of Richard Zischke and Associates while going to school at Lawrence Technological University. Maria started as a draftsman and worked her way up to Project Manager with Richard Zischke and Associates. From there she gained experience as an Estimator, Director, Developer and Vice President. Maria has worn several hats in her long career and has overseen and mentored many employees. During her lengthy career Maria has designed and built over thirty new buildings, sixty renovations and conducted over ten Property Capital Needs Assessments.
Maria has spent ninety percent of her career in the private sector, as an Architect, Builder, Developer and Owner's Rep for Oakland University. She is a Registered Architect and a Licensed Builder. In addition, she is also a registered LEED AP through the United States Green Building Council. Her passion is sharing her knowledge. This passion led her to teaching at ITT Tech in their School of Drafting and Design and leading their Bachelor of Construction Management program for several years. She has also served as an adjunct Professor at Lawrence Technological University. Presently Maria works for the International Masonry Institute where her breadth of knowledge is being utilized at full capacity.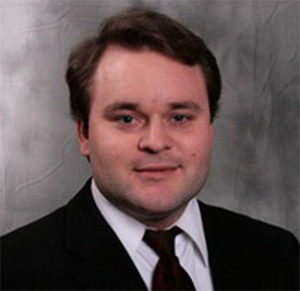 Ryan Grabow, Senior Associate
Wiss, Janney, Elstner Associates, Inc. | See his Resume Here
Statement of Intent:
Thank you for considering me for the BEC Board Member position. I have worked in the Architecture and Engineering disciplines since high school and believe I can contribute to the technical development of the community. My work at WJE closely aligns with the technical performance of the building envelope and provides insight into both historical and current construction practices. Additionally my previous experience at architectural design offices provides me an understanding of the pressures facing the design side of the profession.
Over the past decade since returning to Michigan after several years in Florida, I have enjoyed numerous BEC presentations, including co-presenting one, and have manned our sponsorship booth at the symposium for many of those years. I believe I can benefit the BEC, and through the BEC can benefit the AEC community in the region.
Bio:
Ryan Grabow performs investigations and designs for new construction, renovations, building maintenance, and litigation support. He was a team leader for one of WJE's largest nationwide projects where he developed processes to improve the efficiency of processing, tracking, and analyzing of construction issues across thousands of locations. Mr. Grabow's projects include work done on various structures including museums, healthcare and retail buildings, offices, elderly care and residential facilities, and utilities.
Mr. Grabow previously worked for the architectural design firms Burt Hill/Pollock Krieg Architects in Fort Myers, Florida and J. K. Janiga Architects in Pinckney, Michigan. In addition, he managed the Architectural Computing Resource Center for Lawrence Technological University in Southfield, Michigan.