April 24, 2018
Today marks the midpoint of National Architecture Week 2018, and a day of focus on Affordable Housing—a subject of much discussion around the country, but with a particular importance here in Detroit. As the city experiences the growing pains of a rebound from bankruptcy to ambitious redevelopment, spread unevenly across almost 140 square miles, the inevitable struggle between supporting the city's existing population while also appealing to new residents has become the subject of much debate. But developers and nonprofit organizations alike are making room for Detroit's low-income residents, and some of them in very innovative ways.
---
The Neighborhood Service Organization, or NSO, for instance, has taken an ambitious approach to providing for the underprivileged with the iconic Michigan Bell Building at Oakman Blvd just east of Rosa Parks—and plainly visible from either direction on the Lodge freeway:
"The NSO Bell Building is a groundbreaking effort that provides permanent, supportive housing for homeless adults and much needed support services to help them stabilize and turn their lives around. It also is the home of NSO's headquarters. The $50 million community investment is providing 155 safe, fully furnished, one-bedroom apartments for formerly homeless adults. NSO will provide mental health, addiction treatment, intensive case management, financial literacy, nutrition classes and other on-site support in one location to better help residents restore their lives. A health care clinic is located in the building for residents and the community to utilize. The facility also includes amenities such as a gym, library, computer room, art and music rooms, and a chapel."
For more information on the Michigan Bell Building Project, reach out to the NSO.
---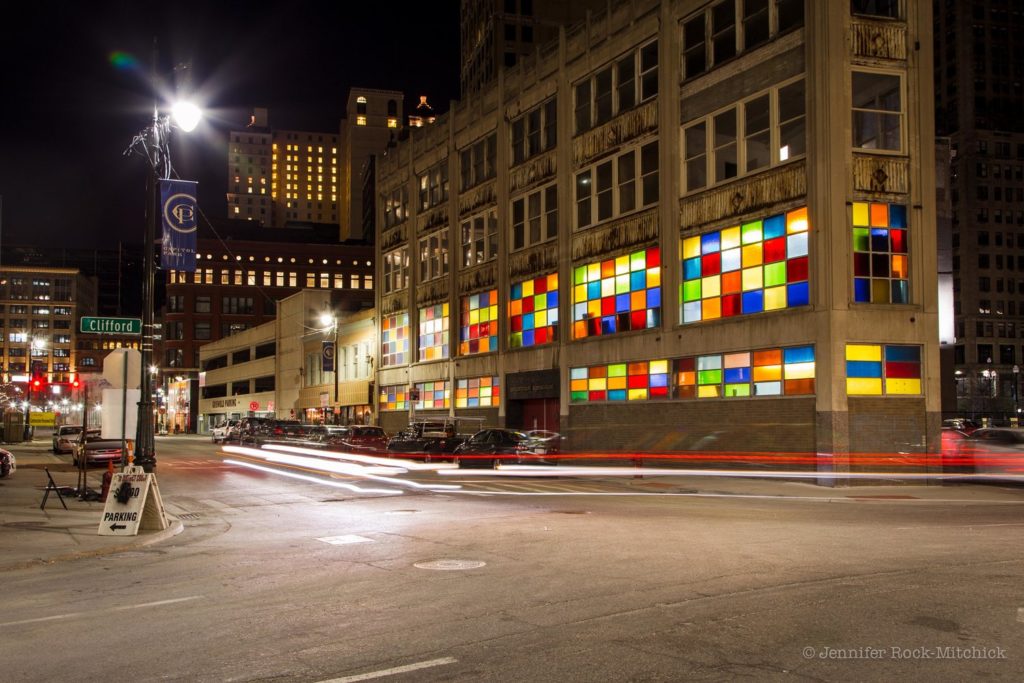 Tonight, the Isaac Agree Downtown Synagogue is convening a conversation, and opening an exhibition, titled "We Don't Want Them," focused on housing discrimination in Detroit. The exhibit is part of the Race2Equity Community Engagement Campaign through the Michigan Roundtable for Diversity and Inclusion, and has toured throughout Metro Detroit since 2010, viewed by hundreds of thousands of people at libraries, schools, colleges, places of worship and business organizations. The "We Don't Want Them" exhibit serves as a tool to begin looking deeper into the issues of racial equity in Metro Detroit.
The exhibit will be on display in the Downtown Synagogue's social hall, and will be accompanied by a conversation with Marsha Music, noted life-long Detroiter, where she was an activist and labor leader, and Professor Howard Lupovitch, Associate Professor of History and the Director of the Cohn-Haddow Center for Judaic Studies at Wayne State University and fourth-generation Detroiter.
---
The tiny houses that dot the northwest Detroit street of Elmhurst are charming and unique. Each seems to have a personality. While the batch of homes has become something of a mecca for architecturally curious tourists, their purpose goes far deeper than a trend.
Cass Community Social Services is in the process of building 25 different Tiny Homes (250-400sf) on the north end of its campus between the Lodge service drive and Woodrow Wilson. Each home will be on its own lot (roughly 30 x 100 feet) and every one will be on a foundation. Most will have a front porch or rear deck to increase the living space.
The residents will have a combination of experiences (formerly homeless people, senior citizens, college students and a few Cass staff members) but all will qualify as low-income. At first, the residents will rent the homes. Anyone who remains for seven years will be given the opportunity to own the home and property.
The houses are being built by both professional trades people (under the supervision of a general contractor) and volunteer teams who will manage the finishing jobs – tiling, dry walling, painting, gardening, building decks and erecting fences.
The aim is to help low-income people, and specifically, formerly homeless individuals, attain an asset and begin to accrue wealth.
"Other organizations have used tiny houses with homeless people, but never has it been a homeownership program," said the Rev. Faith Fowler, director of Cass Community Social Services, Monday morning at the groundbreaking for the next five tiny houses the organization is working to build.