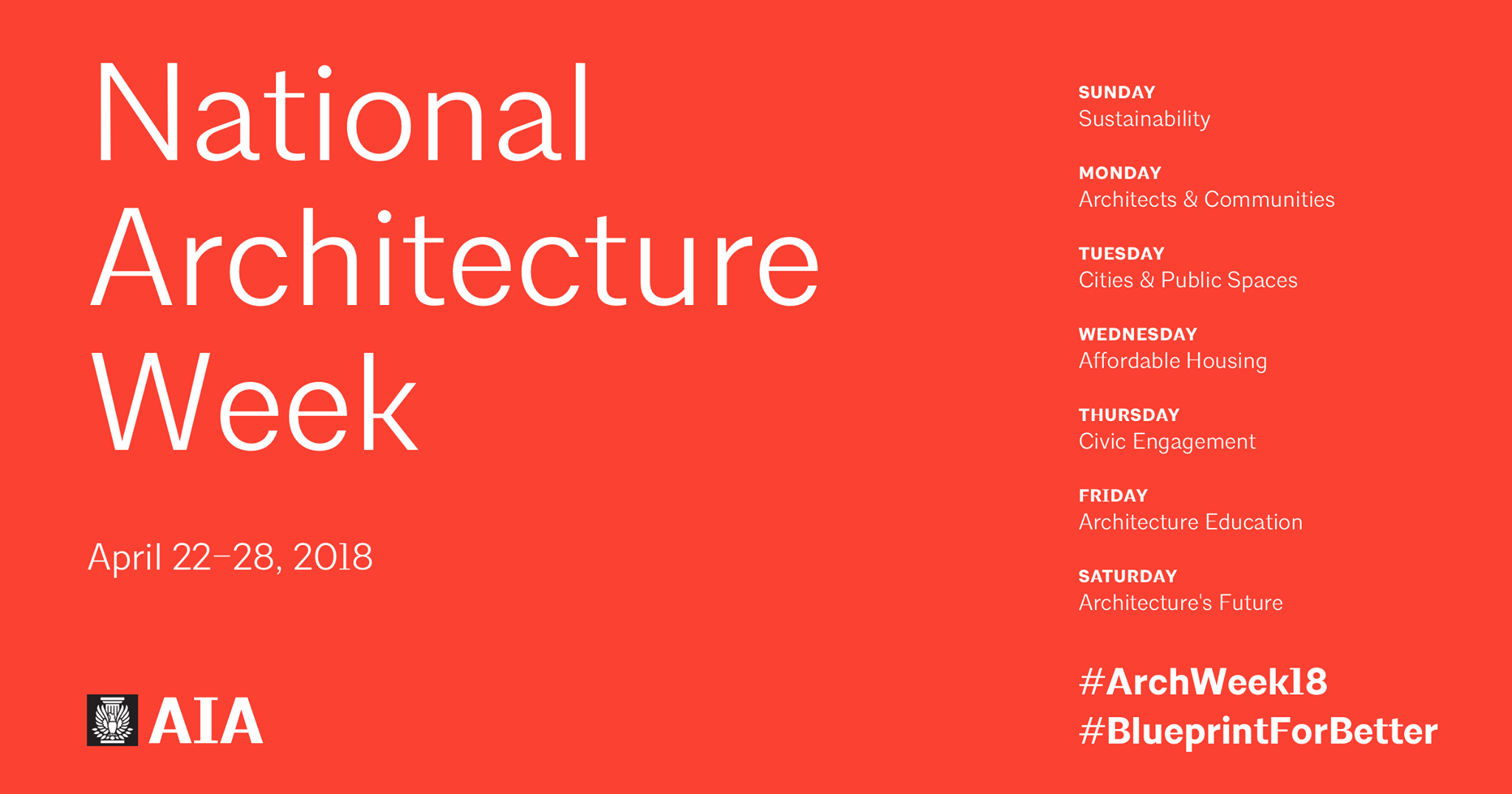 April 23, 2018
Today marks the second day of National Architecture Week 2018, focusing on Architects & Communities. AIA Detroit is proud to use this opportunity to announce the new AIAD Service Network, a database of Detroit-area AEC professionals and allies across the region looking for ways to give back to the diverse and vibrant collection of distinct communities that make up the Detroit region. Joining the AIAD Service Network is easy—-simply go to AIADetroit.com/SignUp and complete your profile to let us know what kind of service opportunities you're interested in hearing about. Already on the AIAD Mailing List? Simply click "Update My Preferences" at the bottom of any AIA Detroit email, and you'll be directed to a page where you can update your communications preferences, including those for the new AIAD Service Network.
AIA Detroit will be spending the entire month of May focusing on Community, and our first volunteer opportunity for the new AIA Detroit Service Network will support both Commerce Design: Detroit, a new neighborhood-focused design-impact competition in partnership with Design Core Detroit, and our May AIAD:COMMONS, presented by AIAD's PechaKucha Night Detroit at the May Drinks by Design!
AIAD is looking for 10-15 volunteers to serve as part of the Street Team for the May Drinks x Design / AIAD:COMMONS / PechaKucha Night—you'll help guests navigate between the several participating venues along Grand River Avenue in Detroit's Grandmont Rosedale Neighborhood, and direct them to information on upcoming events and programs like the Commerce Design: Detroit Competition, the City of Detroit's Design Center in a Box Competition, and of course, Detroit Month of Design—-all part of the ongoing UNESCO Detroit City of Design Action Plan.
Commerce Design: Detroit, powered by Design Core in partnership with AIA Detroit, is a competition aimed at raising awareness of, and access to, professional design services for neighborhood small businesses, and celebrating the impact of commercial design projects on the communities in which these businesses reside. The competition will recognize projects, submitted jointly by the business owner and design team, that have been completed within the City of Detroit, including Highland Park and Hamtramck, in the last 5 years.
The goals of this new program are many, including:

+ IMPACT:

Recognizing design excellence on the merit of its impact on the neighborhoods and communities in which the projects reside

+ COMMUNITY:

Advancing the notion of design as a force for positive change in

all

of Detroit's many vibrant and growing neighborhoods, as well as downtown

+ ACCESSIBILITY:

Working to correct the misconception that good design is a luxury commodity available only to those with exceptional means, and demonstrate how thoughtful design can support growth at every scale

+ COLLABORATION:

Fosters a broad-reaching dialogue on the many interconnected relationships between and among various disciplines of design, including architecture, interior design, landscape architecture, urban design, graphic design, and branding
Applications are open now, and more information and a link to apply can be found through both the Design Core website and the AIA Detroit website. Applications will remain open through the end of June, and we'll be hosting programming throughout the application window to both promote applications for this round, and to support small businesses and designers who may be undertaking projects that could qualify for future iterations of the competition.
Ten (10) Winning Projects will be announced in October, and a People's Choice vote will be opened at that time to allow the public to select their favorite from among the 10 winning businesses, and all 10 will be featured in a Design Crawl / open house leading up to Small Business Saturday in November.
Have a story to share about design and communities? Know of an event we should be participating in? Let us know at News@AIADetroit.com.