April 21, 2019
National Architecture Week 2019 aims to recognize and celebrate the ways architects positively impact our lives! During this week, we will be sharing AIA Detroit updates, articles, and photos that align with AIA National's daily themes. You, too, can join the celebration and national conversation by sharing articles, photos, videos, and resources that align with the daily themes on your social media accounts! Use #ArchWeek19 and #blueprintforbetter.
NATIONAL ARCHITECTURE WEEK DAY 1: ARCHITECTS IN OUR COMMUNITIES
The Detroit Collaborative Design Center (DCDC) works tirelessly to amplify the diminished voices of all citizens through a wide variety of design projects in Detroit and across the country. A resource for over 100 organizations, many of which are community-oriented and could not otherwise affect the positive change they seek, the center has made a lasting impact on the profession through its commitment to social responsibility.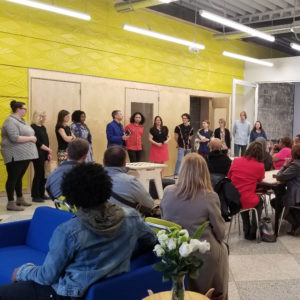 It is only appropriate, then, that the DCDC was able to celebrate their 25th anniversary this past week by opening their new HomeBase storefront, which will act as community headquarters & offices for both the Detroit Collaborative Design Center and Live6 Alliance. Intended to be a space that belongs to the community—hosting block clubs, City Planning Department meetings, and other organizations' activities—HomeBase is a new model of approaching community development.
It furthers the mission that spurred the creation of the DCDC inside the University of Detroit Mercy School of Architecture 25 years ago. As Will Wittig, AIA, dean of the School of Architecture, wrote in a letter nominating DCDC for the 2017 Whitney M. Young Jr. Award, "The community-based work of the design center grounds our mission and demonstrates to every student that architecture is in fact a service profession – we are at our best when we recognize that we are blessed with the opportunity to impact our communities as a force for empowering others".
A humble and community-focused operation, the DCDC fosters hope throughout all of Detroit and often brings together unlikely allies in a quest for positive change in the city. As part of Architecture Week 2019, we would like to celebrate the staff at the DCDC, their efforts & their successes in our community! Here's to another 25 years of empowering Detroit residents, and inspiring architects & designers around the world.
HomeBase will be hosting its inaugural Community Open House this Wednesday, April 25, from 3 to 7 p.m. The community center is located at 7426 W. McNichols Rd. Light refreshments will be served. If your'e interested in attending, please RSVP HERE.