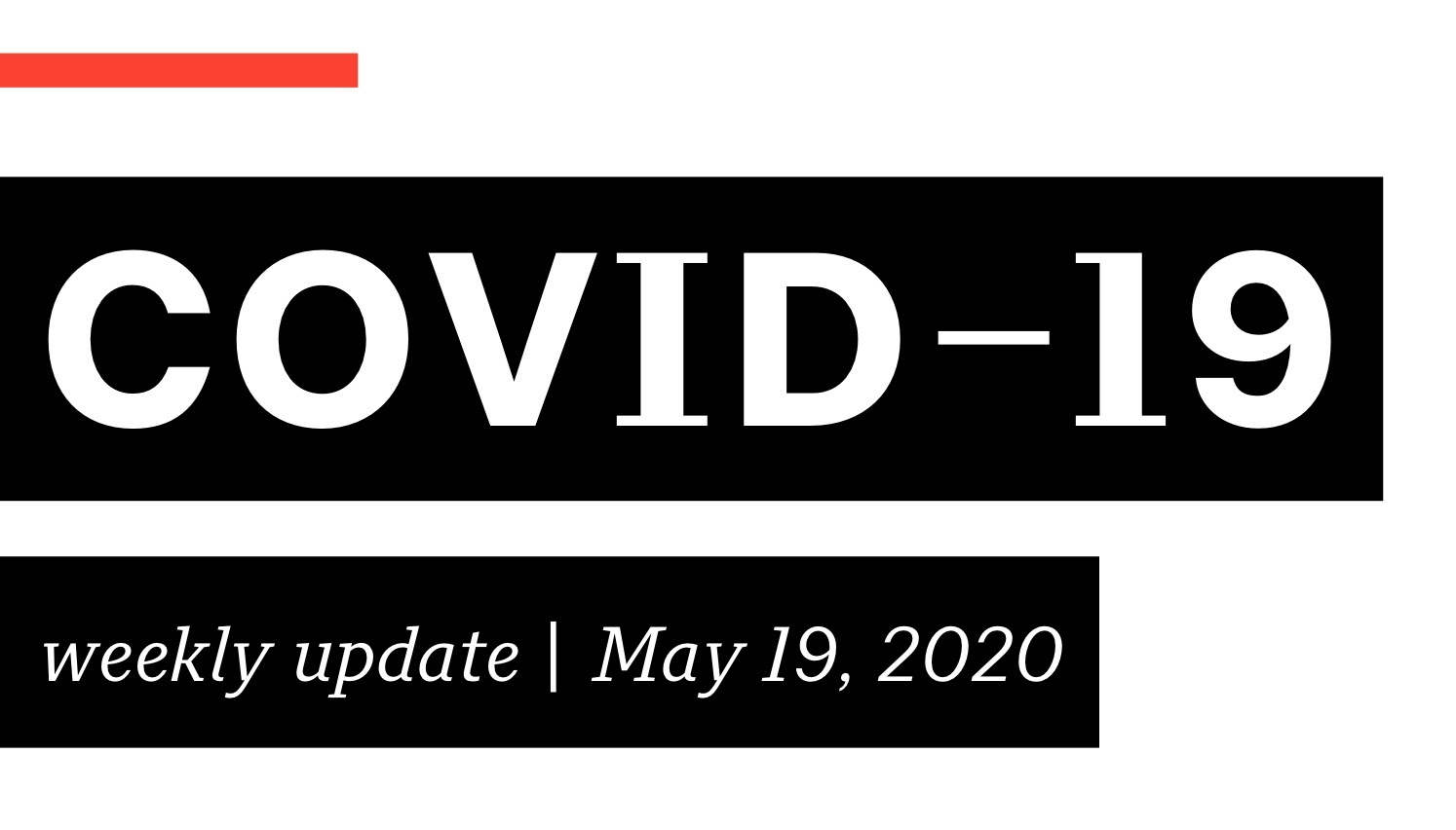 May 19, 2020
More than half of states in the US are reopening their economies in some capacity. This week's email has content to help you prepare plus resources for the class of 2020, tips for adapting workspaces, several webinars including the April ABI, free software, and more.
We're taking next week off due to the Memorial Day holiday, and we'll be in your inbox June 2. Until then, please share your updates and content suggestions at feedback@aia.org.



In Ten Thoughts on the Future of Practice, Phil Bernstein—associate dean at the Yale School of Architecture—discusses how the architecture profession may be impacted and transformed due to COVID-19. AIAU's newest live course on May 27 tackles the unprecedented challenges working parents face: Balancing family responsibilities and remote working full-time (free for members, registration required). McKinsey launched its latest briefing note on COVID-19 implications for business. Speaking of school, graduation is here, and it's a great time to commemorate the tremendous achievements of the class of 2020. Join AIA in celebrating architecture graduates with a congratulatory video or message via social media. Tag @AIANational on Instagram, LinkedIn, and Twitter and include the hashtag #ArchGrad20. You can see Robert Ivy's message here.



On Wednesday, May 20, AIA Chief Economist Kermit Baker will share results from April's Architecture Billings Index (ABI) in a 30-minute AIAU webinar (registration required). The full April ABI will be available Thursday, May 21. Here's the March ABI report in case you missed it.
More on this topic >



On Friday, the House passed the Heath and Economic Recovery Omnibus Emergency Solutions (HEROES) Act, a sweeping $3 trillion legislation. The White House and Senate are opposed to the bill, so we do not expect it to become law. AIA is working with all policymakers to secure AIA's priorities in the final bill, including expanding eligibility for the Paycheck Protection Program to 501(c)(6) organizations. As states reopen their economies, two essential trackers will keep you current. AIA's State COVID-19 Executive Order Exemptions and Plans for Reopening, updated daily, lists exemptions by state so you can see what architecture activities may be exempt. This COVID-19 Local Action Tracker by Bloomberg Philanthropies and The National League of Cities shares actions taken by local leaders. To date, more than 1,700 policies in nearly 500 cities have been tracked.
More on this topic >



AIA's COVID-19 Business Task Force launched a new content series that includes talking points and resources you can use when speaking with clients. Topics include why architects matter in a post-pandemic world, business strategies you can put to work now, and construction and shovel-ready projects. Firms are facing unprecedented challenges as they determine when and how to return to the office. Helix Architecture + Design shares their tips and tools to help firms prepare their workspaces. AIA Contract Documents can help minimize your risk during COVID-19, and a suite of resources shows you how. Among the most popular, this video on negotiating contracts. There are also videos on managing contracts remotely, requesting financial info from project owners, and delays, extensions of time, and force majeure clauses.
More on this topic >



Autocase is offering free access to their cloud-based software for the month of June, along with two free webinars on business case development and new product features. In the spirit of graduation season, let's rally together to help those entering the job force in a difficult environment. Please share: AIA is offering free membership, for up to 18 months, upon graduation. And, AIAU's Emerge series offers free courses that earn AXP experience hours to Associate AIA members.
Know of others? Email us at feedback@aia.org >



The Design for Aging Knowledge Community is hosting a virtual conference in collaboration with Environments for Aging. Don't miss the free keynote, The Aftermath of COVID-19: New Approaches to Senior Living Design. Day passes and full passes are available on their website. On June 1, there's a free live course on the Living Building Challenge and Multifamily Affordable Housing. And on June 9, there's another free course on net-zero hospitals. Are you writing about the impact of COVID on healthcare design? AAH is accepting submissions through May 29 for the 2020 Academy Journal. Knowledge Communities provide a variety of ways to learn and connect with your peers—join one of the 21 KCs today!