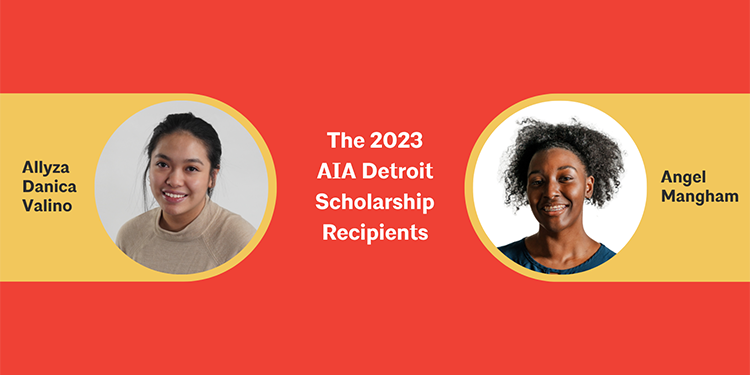 May 9, 2023
AIA Detroit is pleased to announce the recipients of its inaugural 2023 AIA Detroit Scholarships, Allyza-Danica Valino of Lawrence Technological University and Angel Mangham of the University of Detroit Mercy!
For the very first time, AIA Detroit awarded two annual scholarships, (1) $1,500 and (1) $3,000, with the intention to support and foster a diverse profession that is representative of our greater chapter community. This year's efforts were made more special by the generous contribution of an AIA National Component Matching Scholarship Grant, which awarded $1,000 to students enrolled in a NAAB accredited program.
The AIA Detroit Scholarships were established to recognize deserving architecture students attending a NAAB-accredited institution within our chapter boundary (University of Detroit Mercy and Lawrence Technological University) or whose permanent residence is in the AIA Detroit chapter boundary (Macomb, Oakland, St. Clair, and Wayne counties) and is enrolled in a NAAB-accredited institution elsewhere. The goal is to support future BIPOC, LGBTQIA+, and/or women architects as we aim to have our profession better reflects our diverse chapter community.
Congratulations, Allyza-Danica Valino and Angel Mangham! You are assets to the community and we can't wait to see you flourish within the profession.