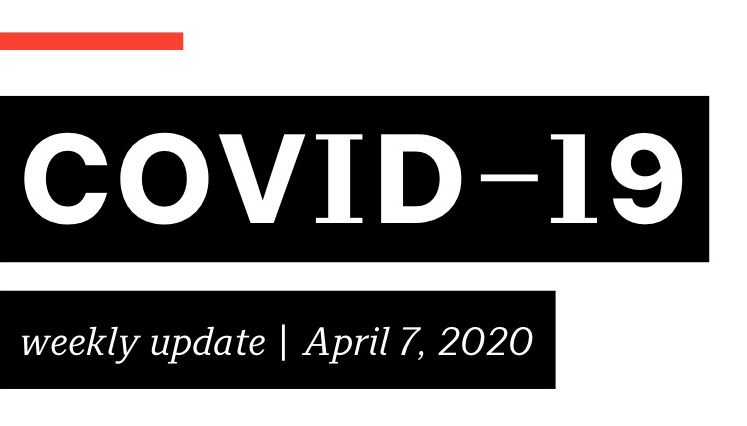 April 7, 2020
It's been another unprecedented week, and everything is in a state of flux. There's a constant in all this, and that's our support for each other. This issue curates some of our best new resources, content, and links to help keep your projects moving and protect your business.
Please stay in touch. Let us know how you're doing and share your feedback and ideas at feedback@aia.org. We'll be in your inbox again next week with new resources and information.



We're experiencing one of the most disruptive periods of our time, yet only 22% of firms with 1–19 employees have a business continuity plan. AIA's brand-new guide, the Architect's Guide to Business Continuity, will help you develop yours. In case you missed it, last week's companion webinar is now available on AIAU. In times of crisis, it's important to design buildings that last. AIA's new practice guide, Design for Adaptability, Deconstruction, and Reuse, gets into the details, including designing for COVID-19. Another new guide covers designing alternative care sites (PDF), addressing challenges including capacity, safety, and risks. The accompanying checklist (PDF) helps you evaluate and select alternative care sites that can treat COVID-19 and surge-capacity patients.
We're urgently looking for architects and firms who have experience designing solutions for healthcare surge and special needs in patient populations. If that's you, please take our survey.



Like everything else, our economy is constantly changing. Our Home Design Trends Special Report has the latest news on residential markets. On Wednesday, AIA Chief Economist Kermit Baker dives into the data from the report and the impact on firms in his weekly webinar (registration required). There's even more data, global, customer, industry, and more—on our economic and industry resources page, updated weekly.
More on this topic >



Executive orders to stay at home to stop COVID-19 spread are impacting businesses across all sectors. The definitions also vary at the state level regarding what's considered essential. This list, updated frequently, shows the architecture activities that may be considered exempt in each state. In case you missed it, you can still watch last week's webinar, What Architects and Firms Need to Know About the Federal Coronavirus Stimulus Plan. The US Chamber of Commerce also breaks down all the federal programs and aid available for small businesses in this helpful article.
More on this topic >



Several AIA members have asked for information about small business loans to support struggling firms. Here are answers to 10 common questions on SBA loans offered during the COVID-19 pandemic. There's also an accompanying guide and checklist (PDF) and a primer on the Paycheck Protection Program including eligibility, applying, and loan terms. This detailed resource on delay claims was just updated for delays caused by a pandemic and addresses five pandemic scenarios.
More on this topic >



Every free resource helps. Here's what's new: AIA members get 3 months of BQE Core for free with an annual subscription, plus two hours of orientation with a BQE Core trainer. GRAPHISOFT is offering free 60-day emergency access to BIMcloud as a Service, so you can work remotely with your team without any technical setup. The 30-day ARCHICAD emergency license for existing users let you access the software at home. It's not free, but Dell is offering AIA members an additional 8% savings on top of the existing AIA member discount.
Know of others? Email us at feedback@aia.org >



How should you design healthcare buildings to be flexible in the face of uncertainty? This webinar, sponsored by the Academy of Architecture for Health, dives into the "big 5" design decisions that provide adaptability in an ever-changing landscape. The latest issue of the AIA Practice Management Digest discusses contract language and manufacturer representations, cover letters to help your next project, and crafting effective messages. Conversations about COVID-19's impact are happening across all Knowledge Community discussion boards. You can catch up on all recent posts here and share your own.