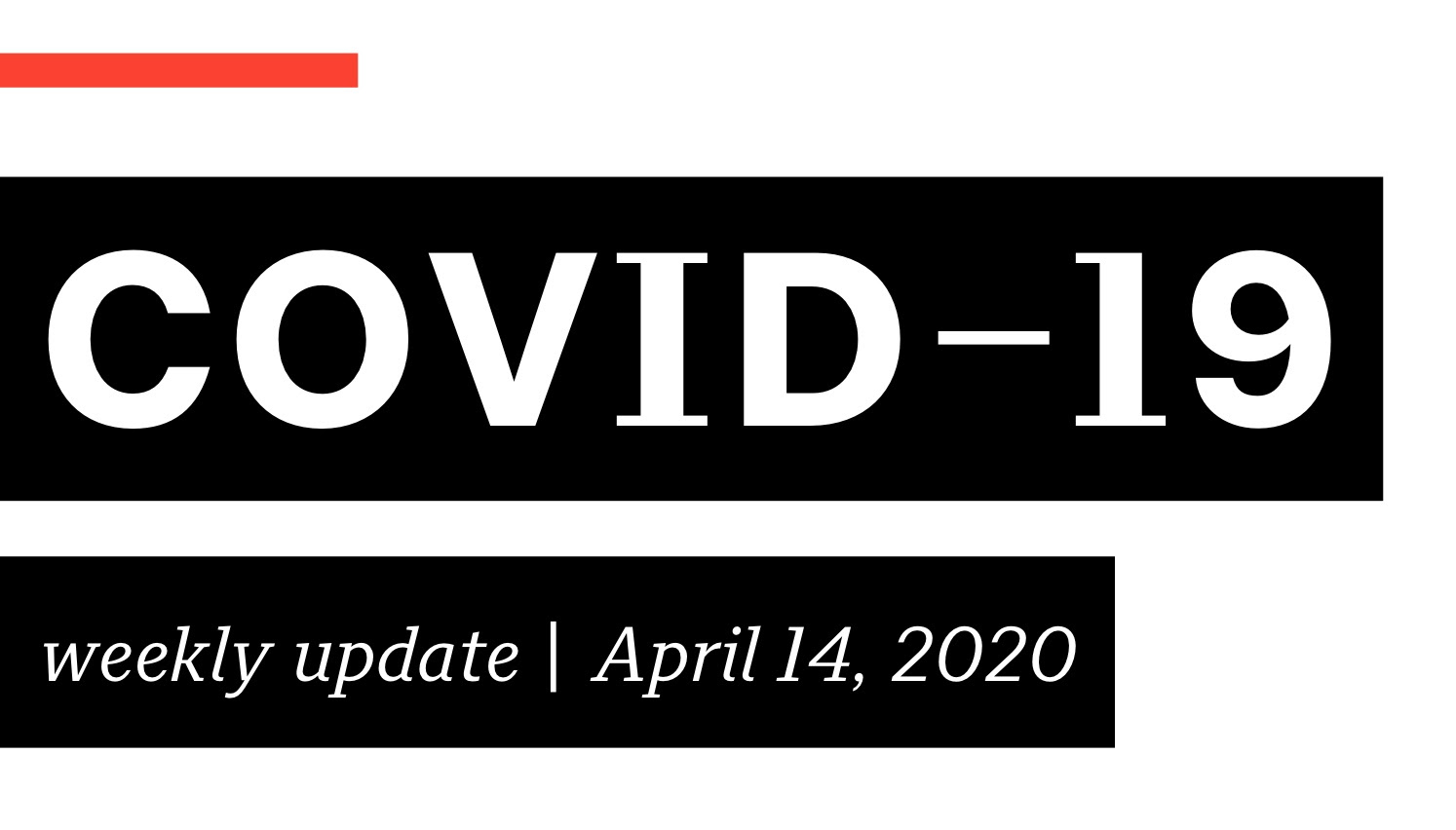 April 14, 2020
Many of you have been in touch with content suggestions, feedback, and updates on how you're doing and coping in this new normal. Thank you, and please keep sharing at feedback@aia.org. It helps us bring the most timely and relevant resources to you.
Here's another week's worth of our best new content and links to support your work. We'll be in your inbox again next week with new resources and information.



Your number one request from the last week? Guidance on construction administration. Here are guidelines and protocols from three firms on construction administration and site visits. The "legal" tab on our COVID-19 response page has more, including two popular resources, the architect's standard of care relative to site visits and how AIA contracts address issues related to COVID-19. Much of our focus has been on business resources and legislation. Last week we launched a survey to identify architecture projects related to COVID-19. The projects are still coming in, but you can see the more than 100 that have been submitted so far, including health systems, screening booths, temporary structures, alternative care sites, and more.
One area we'll be spending more time on is resources for emerging professionals. This overview from AIA's advocacy team discusses student loan debt relief provisions in the CARES Act, including repayments, how your employer can help, and info for current students.



Unemployment claims have been dominating the news this past week. Each Wednesday, AIA Chief Economist Kermit Baker hosts a weekly webinar to walk through the latest developments and economic data and discuss the impact it's having on firms. Watch last week's session and register for tomorrow's. This helpful resource from Brookings explains unemployment insurance, how it works, and what's changed as a result of the CARES Act.
More on this topic >



We've been talking a lot about this webinar, which covers how the CARES Act benefits architects and firms. Our new companion FAQ collects the questions you submitted during the live event and provides detailed answers. AIA partner Deltek is hosting a webinar on 4/20 to address the business development impact of policy in four key areas. Even if you can't make it, sign up and you'll receive a link to the recording. The U.S. Department of the Treasury's website has Paycheck Protection Program (PPP) applications, affiliation rules, a tool to find eligible lenders, and more. Their PPP FAQ (PDF) is particularly helpful.
More on this topic >



COVID-19 continues to wreak havoc in our global economy. Resources like Harvard Business Review's free new coronavirus and business e-book helps businesses understand what to do now to counter the current challenges. The Consumer Financial Protection Bureau can help protect your finances during the pandemic with financial resources for small businesses and consumers. The AIA Trust's newest article on 401(k) loans walks through the pros and cons of making a withdrawal. Houzz is hosting a webinar 4/15 on virtual design and diversified service offerings. This living resource from the team at Practice of Architecture has best practices by firm size, templates, and a collection of valuable resources. Last week, the Architect's Guide to Business Continuity was so popular that we're sharing it one more time, here.
More on this topic >



Here are this week's free and discounted resources. ArchiPrep® is giving new and current subscribers free access to their ARE® prep software for the month of April (Associate AIA members only). If you're a current Houzz subscriber, you can get access to their new software, Houzz Pro. New subscribers receive 50% off. The AIA Career Center is offering expert résumé review for free. On your account overview page, scroll to the TopResume section at the bottom to submit your résumé. The Career Center is also offering employers a 60-day job posting at the 30-day rate (promo code SPRINGSALE2020). MADCAD.com is offering a 5% discount on building codes and standards including ICC, NFPA, ASHRAE, ASTM, and USGBC. They're also offering a 50% discount on FGI webinars.
Know of others? Email us at feedback@aia.org >



Which platforms are you using for remote work? The TAP discussion board has the latest conversations and tech best practices. Are you writing about the impact of COVID-19 on healthcare design? AAH is accepting submissions through May 29 for the 2020 Academy Journal. AIA Knowledge Communities are another way to stay connected with your peers and explore discussion boards, online events, and resources for practice. There are 21 professional communities—join one or more today!