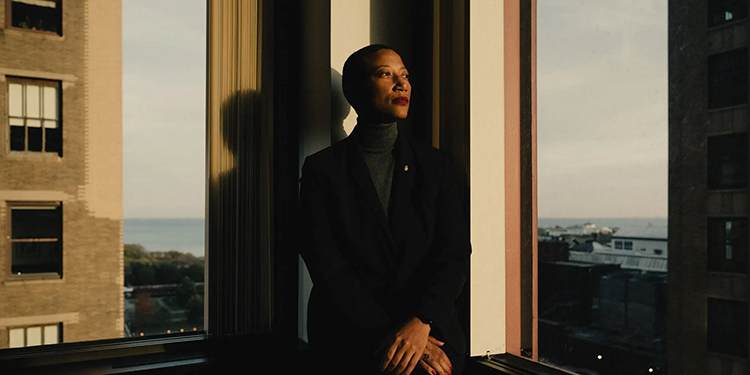 November 20, 2023
Jane Margolies | The New York Times
Image Credit: Akilah Townsend for The New York Times
They have worked for decades to make their way in a profession that remains overwhelmingly white and male, but there are signs of change.
When Kimberly Dowdell becomes president of the American Institute of Architects next month, her ascent will be noteworthy. Ms. Dowdell, an architect in a profession that is overwhelmingly white and male, is a Black woman, the first to fill the post in the group's 166-year history.
African Americans make up 13.6 percent of the U.S. population, but only 1.8 percent of licensed architects in the country are Black, according to the National Council of Architectural Registration Boards. Fewer than a quarter of the nearly 120,000 licensed architects in the United States are women, and not even one half of 1 percent of architects are Black women.
Black female architects are so few and far between, and obtaining licensure is such a point of pride among them, that many take pains to note their place in the chronology of advancement in the field — Ms. Dowdell, 40, said that in 2013, she became the 295th living Black woman to be licensed in the United States.
There are small signs of change: Nearly 3 percent of architects who received their license last year were Black, and 43 percent of new architects were women.
"We're working on moving the needle but will need at least a decade," said Ms. Dowdell, who is the director of strategic relationships at the design firm HOK and is based in Chicago. She pointed out that it could take 10 years or longer to obtain an architecture degree, fill a work experience requirement and pass licensure exams to become a registered architect.
Yet progress toward racial and gender equity in the profession is by no means guaranteed, especially now that the Supreme Court has rolled back affirmative action in college admissions. Some say there has been backpedaling on diversity efforts that companies trumpeted after the Black Lives Matter protests.
"There's always been a backlash to Black progress," said Sharon Egretta Sutton, 82, a distinguished visiting professor at the Parsons School of Design in New York — and the 12th Black female licensed U.S. architect.
Still, the visible presence of a Black woman atop the A.I.A., which has more than 96,000 members, is an achievement in and of itself and perhaps an inspiration to others, Ms. Dowdell said. "Representation matters," she added.
The design professions help shape what is built in this country, and architecture is not the only one lacking diversity.
Of licensed landscape architects, only 0.8 percent are Black and 0.3 percent are Black women, said Matt Miller, chief executive of the council that administers the Landscape Architect Registration Examination. Thirty-nine percent of landscape architects are female.
Interior design has a reverse gender gap: There are vastly more women than men in the field partly because for decades women were not considered up to the rigors of architecture and were steered to interiors instead. Only around 1.5 percent of practitioners are Black, said Cheryl S. Durst, the chief executive of the International Interior Design Association.
The proportion of Black architects is significantly below the share of Black professionals in other fields requiring intensive study and rigorous exams. More than 6 percent of lawyers in the United States are Black, according to data from the Bureau of Labor Statistics.
The dearth of Black architects means that the buildings in which many minority Americans live, work and play are often designed by people who may not be attuned to their cultural reference points, experts say. And the design of all spaces, regardless of who uses them, can suffer when decisions do not include a variety of perspectives. Even memorials to enslaved Africans in this country may be designed by people who are not Black.
But the scarcity of Black architects can be self-perpetuating, Black industry observers say. Youngsters may not learn about the profession if there are no architects in their communities. Then, too, Black parents may be wary of the profession if architecture enters their lives only as a threat, as with the arrival of luxury housing that displaces neighborhood residents.
"When you see architecture as the enemy, it's difficult to have children say, 'I want to do that,'" said Craig Wilkins, associate professor of architecture at the University of Michigan.
And parents may be reluctant to incur debt to pay for a child's architecture degree — which can require thousands of dollars in supplies on top of tuition — given that the median salary (under $83,000) lags those in adjacent fields like engineering.
The cost of licensure is another reason that architecture has been regarded as a profession of privilege. Candidates must pass six tests of the Architectural Registration Exam — totaling more than $1,400 — and it is common for candidates to have to take tests multiple times to pass. Practice materials alone are expensive.
For decades, Black architects have worked to make their way in the field. On the heels of the civil rights movement, many started their own firms. "Back then, they were limited in how far they could advance in majority firms," said Steven Lewis, a principal at ZGF, a majority-owned design firm.
In 1971, Black architects united to form the National Organization of Minority Architects. "It gave us a safe space where we could discuss issues but also share our work and celebrate our work," said Mr. Lewis, a former president of the organization.
In the 1980s, two NOMA members started searching out licensed Black architects for what they would call the Directory of African American Architects. "We would go to conferences and ask around," said Bradford Grant, one of the directory creators and the interim chair of the architecture department at Howard University.
Their first edition, printed in 1991, had 870 names. Today, NOMA maintains the directory online. Current total: 2,535 (1,942 men, 593 women).
Richie Hands, 34, was one of the newly licensed architects recognized in a ceremony at NOMA's annual conference last month. "Now I can say I'm an architect, which is awesome," he said.
Black women have rooted one another on. Kathryn T. Prigmore, director of operations in Washington for Moody Nolan, a Black-owned firm, has organized presentations at conferences in which women share their stories of adversity and achievement. Katherine Williams, an architect in Falls Church, Va., founded the Black Women in Architecture Network to bring colleagues together for brunches and raise funds to help licensing candidates with exam fees.
And there are programs to expose Black youths to architecture. NOMA chapters offer summer camps. Michael Ford, an architect and the founding partner of BrandNu Design Studio, has invited rappers to his Hip Hop Architecture Camp sessions in a bid to make the profession "more relevant culturally," he said.
Howard University has educated more Black architects than any of the other historically Black colleges and universities, and more than all of the predominantly white institutions combined, said Professor Grant, who has done research on the topic. Howard has significantly more female architecture students than male, he added.
Despite wide-ranging efforts, the most significant gains for people of color since 2018 have been made by those who identify as Latino, and Black women appear to be making more headway than Black men. The lack of progress has discouraged some.
"Build the pipeline — I've been hearing that for 50 years," said Dr. Sutton, who has written about her experience being recruited to Columbia's architecture program after a 1968 campus uprising and the students' drive to improve slum conditions near the school.
"Working outside the system may offer the most hope at this point," she said. "Maybe change needs to come from the ground up."
Some Black architects have recently been able to advance at majority-white firms. Others are championing a community-centric design process and calling themselves "design justice practitioners." Peter Robinson, an assistant professor at Cornell, encourages students to learn from and help preserve the spaces Black people have fashioned for themselves. He devoted a recent design studio to the community gardens that Brooklyn residents created in abandoned lots.
Ms. Williams of the Black Women in Architecture Network said there was only so much that she and others could accomplish in a society that persisted in "seeing people who aren't white men as less qualified."
"What is most needed is a changing culture," she added.