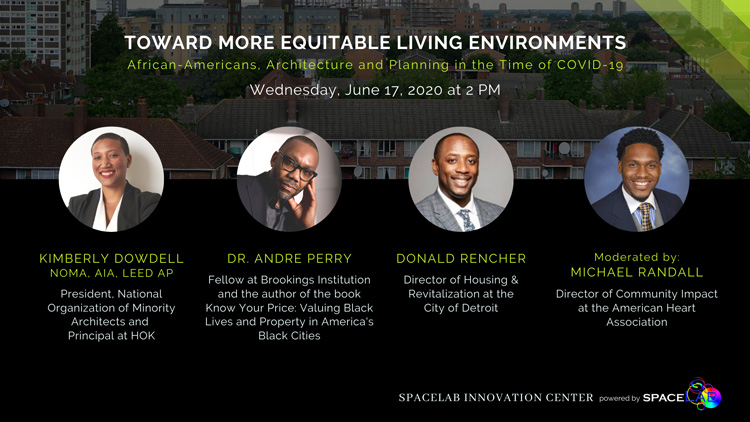 Date: June 17, 2020 | Time: 2:00pm
Cities with majority Black populations like Detroit, Baltimore and New Orleans have been greatly impacted by COVID-19. At the end of April, Data Driven Detroit estimated that about one quarter of COVID-19 cases in Michigan were in Detroit despite the city being only 6.7% of the state's population. APM Research Lab in St. Paul, Minnesota reports that nationwide, African Americans are dying from the virus at three times the rate of white Americans.
The panel will address the value placed on Black communities, causes for the disparity in cases of the virus and death rates, ideas for changes to city infrastructure design during and after this pandemic, and how design professionals can adapt to changing environments.
PANELISTS:
Kimberly Dowdell, NOMA, AIA, LEED AP
Kimberly Dowdell is a licensed architect and urban thought leader who is focused on building resilient, healthy and sustainable cities. A native of Detroit, Kimberly's passion for design as a catalyst for urban revitalization was inspired by childhood experiences in her hometown. She went on to live in Ithaca, Rome, Washington, New York and Boston prior to returning to Detroit in 2015, where she worked on neighborhood-scale reinvestment efforts until her relocation to Chicago in 2019. Kimberly's professional mission is to improve the quality of life for people living in cities. She believes in building diverse, cross-sector teams to solve our society's most complicated challenges with a lens towards justice and equity. She is the 2019-2020 National President of National organization of Minority Architects and a Principal in the Chicago studio of HOK, a global architecture and planning firm.
Dr. Andre Perry
Andre Perry, PhD is a fellow at Brookings Institution, and the author of the book, Know Your Price: Valuing Black Lives and Property in America's Black Cities. His research focuses on race and structural inequality, community engagement, education, economic inclusion, and workforce development. He is a frequent contributor to news programming on NBC, National Public Radio, TheGriot.com, CNN, and other national media outlets.
Donald Rencher
Donald Rencher is Director of Housing and Revitalization with the City of Detroit. Since 2015, he has served the City in multiple roles, including working on mixed income, mixed use development projects and financial underwriting. Prior to working at the City of Detroit, he served as senior lead counsel to the Michigan State Housing Development Authority where he worked on large-scale, affordable housing development and served over its single-family housing portfolio.
Moderator: Michael Randall
Michael Randall is an urban planner and Director of Community Impact at the American Heart Association Detroit. He has devoted his career and life to the development of communities around the country and the world. His expertise includes, but is not limited to, public health, urban planning, housing, community enrichment and financial capabilities. Michael has served on both public and nonprofit boards including the Ypsilanti Planning Commission, the Ypsilanti Library Board of Trustees and Legal Services of South Central Michigan. His entrepreneurial endeavors include co-owning and operating the community enrichment organization, Maureen James Community Enrichment.
PRESENTED BY:
SpaceLab Innovation Center, a 501(c)(3) organization with a mission to provide educational opportunities and promote innovation in the built environment ecosystem. Housed in the SpaceLab Detroit coworking community, the Innovation Center also provides opportunities for people interested in learning about advanced design, technology and building trades.
SpaceLab Detroit, a shared office, coworking and meeting space – a community of urban innovators creating smart solutions for our neighbors and our city.