Date: September 08, 2022 | Time: 5:00pm-6:30pm - 1.5 AIA Health, Safety, Welfare (HSW) Learning Units
1.5 Health, Safety, Welfare (HSW) AIA Continuing Education will be made available by SES Foam
In-person Attendee: $5.00 at the venue
Virtual Attendee: $5.00 on Eventbrite
DESCRIPTION:
This course teaches the effects of air leakage in a building, air barrier definitions, and types of air barriers. We review air barrier technology and demonstrate the impacts of high air leakage regarding health, indoor air quality, building durability, and indoor comfort. Finally, we look at fire resistance rated assemblies that provide superior protection for fire sprinkler systems providing superior life safety for the occupants.
Attendees should have basic knowledge of the IECC and fire resistance rated assemblies for construction types requiring sprinkler fire suppression systems.
LEARNING OBJECTIVES:
We demonstrate the impact of convective heat transfer comparing real world ACH50 air leakage energy models to illustrate the importance of air tightness for energy consumption.
Condensation control, healthy indoor air quality, building durability, and occupant comfort.
Advanced thermal resistance calculations to demonstrate the impacts of voids and thermal bypass to the thermal resistance of conventional construction assembly types.
Technology solutions that can be grouped together as a system to create repeatable processes for high performance construction.
SPEAKER INFO: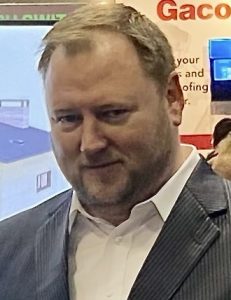 As the Director of Building Science for SES Foam, Aaron Davenport has more than 20 years' experience as a homebuilder and building materials executive. His key focus has been disruptive innovation pushing the boundaries of construction to create high-performance state of the art products and processes. Aaron has been a licensed homebuilder in FL for over 20 years and has an extensive background in building science. He has broad experience from team collaboration, product development, launching new products and leading preeminent sales initiatives in green building across North America.
Aaron began his career in construction working on commercial construction jobs for his father and then entered the specialized field of building diagnostics and forensics performing inspections and testing on 1000's of homes and buildings. Accredited as a RESNET HERS Rater, Trainer and QAD as well as an FSEC accredited Commercial Energy Rater, Aaron is a subject matter expert on energy ratings, building science, HVAC design, and building codes. His working knowledge of building materials supply chain are extensive, from raw chemical manufacturing all the way to the home builder's consumer.
Throughout his career, Aaron has worked closely with some of the largest national, regional and influential high-performance homebuilders around the country. Aaron also has executive experience with a global Fortune 100 company, specifically in the specialty construction materials sector. Aaron is an accomplished public speaker and has held building industry symposiums around the country educating thousands of construction industry leaders on innovative strategies to improve building performance.