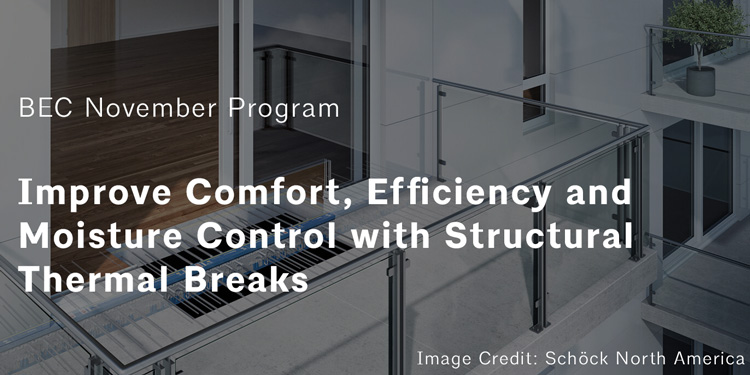 Date: November 09, 2023 | Time: 5:00pm-6:30pm - 1 AIA Health, Safety, Welfare (HSW) Credit
AIA Continuing Education Health, Safety, Welfare Learning Unit (HSW) will be provided by Schöck North America.
DESCRIPTION:
Concrete slabs and steel beams that project through the building envelope, such as those used in the construction of balconies, canopies and parapets, break the insulation layer and create thermal bridging. Incorporating a thermal break within structural elements significantly improves the thermal performance of building envelopes and helps avoid costly issues down the road.
This course discusses solutions to separate the external components from the insulated interior of the building, minimizing thermal bridging, energy loss and moisture issues. Attendees will learn the benefits of incorporating structural ther-mal breaks, as well as the concerns and potential issues when they are not included. We will also discuss local building code requirements and de-sign best practices when working with structural thermal breaks.
LEARNING OBJECTIVES:
Why, how and where thermal bridging occurs and the problems it causes.
Why it is more important now than ever to address thermal bridging effectively.
How to incorporate structural thermal breaks into your design for maximum benefits regarding energy efficiency, structural integrity, and health and wellbeing of building occupants.
What to expect when working with a structural thermal break supplier.
SPEAKER INFO:

Nate Lambrecht
Head of Sales | Schöck North America
Nate Lambrecht is the Head of Sales for Schöck North America, overseeing all commercial activities of Schock North America in the US and Canada. His team assists clients in optimizing building envelope performance through the incorporation of structural thermal breaks and other building components.
With a background in Natural Resources and Environmental Sciences (BS, University of Illinois) and a Masters in Architecture (University of Wisconsin, Milwaukee), Nate worked as an architect for several years before shifting to the building manufacturer's arena.
In his years working for a waterproofing and roofing manufacturer, he managed various global product lines, bringing multiple new technologies into the marketplace. Here, Nate worked on some of the largest and most challenging construction projects around the world – tunneling projects in NYC, casinos in Macau, museums in the Middle East and tech headquarters in Silicon Valley. This experience deepened his comprehension of global construction challenges, underscoring the importance of quality products and seamless information transfer for project success. Since then, he has devoted his career to elevating construction practices and pushing the industry forward.
When not working to make the built environment a better place, Nate spends his time outdoors with his family or on the water fishing with friends.