Date: February 10, 2022 | Time: 5:00pm-6:00pm - 1 AIA Health, Safety, Welfare (HSW) Credit
1 Health, Safety, Welfare (HSW) AIA Continuing Education will be made available by WJE
In-person Attendee: $5.00 at the venue
Virtual Attendee: $5.00 on Eventbrite
DESCRIPTION:
More now than ever before, sealants play an important role in building envelopes, but often do not receive the same consideration as other building envelope materials relative to specifying materials. The presentation will not discuss how to write a specification, but will help evolve the audience's understanding of joint sealants and discuss relevant ASTM Standards for specifying and testing of sealant materials proposed for use on projects.
This seminar will also discuss considerations for the selection of sealant materials, some of which are unique to specific project requirements, can result in a successful sealant installation or failure. For sealant replacement projects, investigation of the existing conditions will provide information necessary to not only specify the correct sealant, but also the methods of preparing the substrates and considerations for the installation of the sealant.
LEARNING OBJECTIVES:
Identify the many variables to consider when specifying joint sealants
Identify factors and importance of installation methods in the performance of joint sealants
Evaluate the appropriateness of various joint sealant materials for various joint types
Evaluate the performance of joint sealants through industry available testing methods
SPEAKER: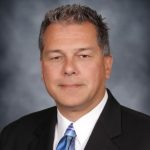 Christopher Sass
Associate Principal | Wiss, Janney, Elstner Associates, Inc
Christopher is a licensed architect in Michigan and Illinois, having received a Bachelor of Architecture in Building Technology from the University of Illinois. He is the current-past Chairman of ASTM C24 Committee on Building Seals and Sealants; the current-past president of the Board of Trustees of the Masonry Institute of Michigan, and a member of the Masonry Institute's Generic Wall Design Committee. He is also active in BOMA Metro Detroit.
He works out of the WJE Detroit office and has over thirty-six years' experience investigating building problems. The majority of the projects in which he is involved pertain to building envelopes, and particularly water infiltration.
Wiss, Janney, Elstner Associates, Inc. (WJE) is a national firm of architects, engineers and material scientists, specializing in the evaluation and investigation of existing buildings and structures.