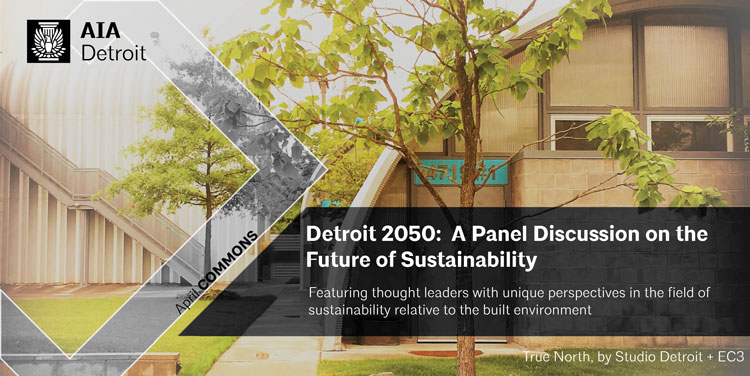 Date: April 24, 2019 | Time: 6:00pm - 8:00pm
Detroit 2050: A Panel Discussion on the Future of Sustainability
A special Earth Week installment of our AIAD:COMMONS series will feature a panel of thought leaders with unique perspectives in the field of sustainability relative to the built environment.
2 HSW (Health, Safety, Welfare) AIA CEU Credits available
DISCUSSION TOPIC
In less than a decade, the City of Detroit has seen rapid transformation of its inner core with renewed interest in public infrastructure and private investment. With a level of development not seen in nearly a century, Detroit is uniquely positioned to be a more sustainable and equitable city. And with the establishment of the Office of Sustainability in 2017, civic government is now playing a larger role in shaping what that future looks like.
This panel discussion will focus on both the current and future visions for sustainability in the City of Detroit. Looking many facets of design ranging from large scale infrastructure and development to block by block initiatives, how will the decisions we make now shape the future?
SCHEDULE
5:30PM Doors Open
6:00PM Introduction
6:30PM Panel Discussion
7:00PM Audience Q&A
FEATURING
Chris Heine & Kari Rosteck, COTE Co-Chairs (Hosts)
Joel Howrani Heeres, City of Detroit Director of Sustainability (Moderator)
Saundra Little, Quinn Evans Architects
Natalie Jakub, Green Living Science
Kendal Kuneman, Energy Sciences
Todd Scott, DetroitGreenways Coalition