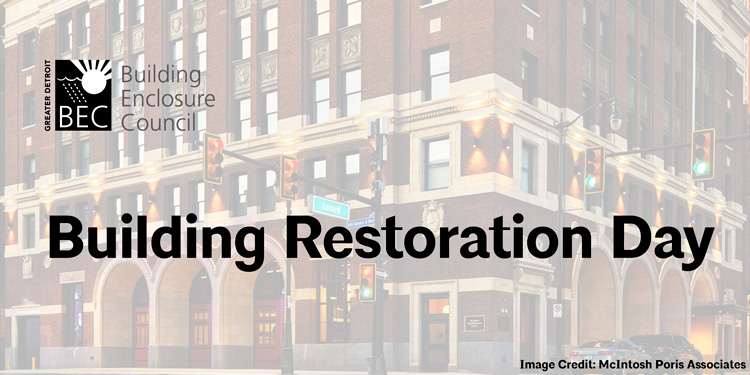 Date: April 27, 2023 | Time: 8:00 AM - 4:00 PM - 6 AIA Health, Safety, Welfare (HSW) Credits
Located at the Holiday Inn Detroit Northwest – Livonia, an IHG Hotel | 17123 North Laurel Park Drive, Livonia, MI, 48152
Up to 6 hours of HSW (Health, Safety, Welfare) AIA Continuing Education Learning Units provided by AIA Detroit
EVENT AGENDA
8:00 AM: Check in/Continental Breakfast, Sponsor Displays/Networking
8:45 AM: Opening Comments
9:00 AM-10:00 AM: Retrofit Anchoring of Masonry and Stone Facades – Kelly Moorman
10:00 AM: Morning Break, Sponsor Displays
10:30 AM-12:00 PM: Principles of Cleaning & Protecting Historic Masonry Structures – Sarah Holder
12:00 PM: Lunch Break, Sponsor Displays
1:00 PM-2:15 PM: Fixing the Fix – Amanda Cassidy and Lloyd Dubisky
2:15 PM: Afternoon Break, Sponsor Displays
2:45 PM-4:00 PM: 1.25 Teaching an Old Dog "Old" Tricks – Mike Kirk and Dan Schneider
4:00 PM: Closing Remarks
PRESENTATION & SPEAKER INFO
Retrofit Anchoring of Masonry and Stone Facades
Kelly Moorman, Technical Specialist at PROSOCO, Inc.
Presentation Description:
This presentation provides an overview of existing masonry and stone facade instability issues, the cause and recognition of these problems, and cost-effective re-anchoring solutions for repair involving various masonry wall construction techniques. A detailed look into the different types of retrofit anchoring systems available to stabilize existing masonry and stone facades will be discussed.
Learning Objectives:
1. Recognize the function and characteristics of brick ties and anchors.
2. Recognize existing masonry veneer instability conditions and their associated cause.
3. Review the types of retrofit anchoring options and how they function.
4. Summarize the typical retrofit anchoring and masonry restoration process.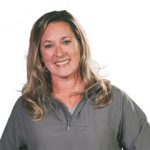 Kelly Moorman has more than 13 years of experience working in the masonry anchoring industry. She began her career with her family's business, formerly known as Construction Tie Products (CTP) and is now part of the PROSOCO team, which acquired CTP in June of 2019. Kelly fills a critical role within PROSOCO's Anchoring Systems Group as a Technical Specialist, educating architects, engineers, building owners and contractors on the benefits of new construction and retrofit anchoring. Kelly graduated from Purdue University and has been involved in the marketing, training, and product development of anchoring systems for multiple organizations. She was a board member for 3 years at the Sealant Waterproof Institute and is currently serving on the board for ICRI Indiana chapter. Kelly lives in Martinsville, IN with her daughter, Kailyn and her husband, Scott. Kelly is primarily focused on the Midwest, but travels all over the US helping with anchoring solutions.
Principles of Cleaning & Protecting Historic Masonry Structures
Sarah Holder, Sales Operations Manager at PROSOCO, Inc.
Presentation Description:
This presentation provides the principles of cleaning and protecting historic masonry construction. When planning a cleaning campaign, people often select a product according to the staining or soiling on the building. While this process is correct in part, this practice does not include consideration of the substrate that is being cleaned and often leads to the selection of an inappropriate product. This, in conjunction with the marketing misnomers of "green clean" or "one cleaner for everything" can result in catastrophic, irreparable damage to your historic masonry. During this session, you will learn how to identify your substrate, discuss typical staining and soiling mechanisms, and learn the protocols for cleaning and protecting masonry. Participants will learn procedures to develop their cleaning campaign and plan for continued maintenance of their masonry construction.
Learning Objectives:
1. Distinguish between different masonry materials
2. Characterize common staining and soiling mechanisms and understand how they behave.
3. Identify the factors that impact chemical cleaning.
4. Outline the factors that influence water repellent selection on historic masonry.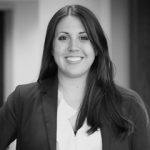 Sarah Holder is the Sales Operations Manager with PROSOCO in Lawrence, KS. Formerly the Preservation & Technical Training Specialist at PROSOCO, Sarah provided technical support related to historic building materials, material degradation, and product performance. Sarah is an active member of the Association for Preservation Technology (APT) and has presented at their annual/regional meetings and workshops. Holder was the Chair of the Board of Directors for APT Central Plains and a Commissioner on the City of Lawrence Historic Preservation Commission. She holds a M.S. in Historic Preservation with a degree concentration in materials conservation from the University of Texas at Austin.
Fixing the Fix
Amanda Cassidy, Senior Architect at SME
Lloyd Dubisky, Senior Project Consultant at SME
Presentation Description:
"What happened? We performed a multi-million dollar restoration and the building is still leaking."
For many years, building enclosures provided water, air, vapor, and thermal control differently than building enclosures today. Restoration professionals need to understand the old ways in order to implement effective restoration strategies. Without this understanding, the law of "unintended consequences" may come into play.
Not long ago, a church in the upper Midwest underwent a significant restoration. It wasn't long before the leaks, and other issues that were thought to have been addressed, began to reassert themselves. This is the story about fixing the fix.
In this presentation SME's Senior Consultant, Amanda Cassidy, and Senior Project Consultant Lloyd Dubisky will examine how design decisions made during the building initial restoration resulted in unintentional adverse effects. They will describe how the remediation investigation was performed, and what corrections were recommended to solve the problems.
Learning Objectives:
1. Understand the causes and effects of design decisions on restoration projects.
2. Understand how traditional construction provides water, air, vapor, and thermal control, and how altering the construction may cause unintended consequences.
3. Understand the holistic process of investigation in a historic building.
4. Anticipate common challenges in building restoration.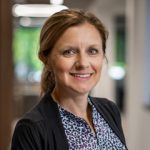 As a building enclosure consultant at SME, Amanda Cassidy has gained technical knowledge in a multitude of building materials and systems including walls, windows, and roofs. She has over twenty years of professional consulting experience, and received both her Bachelor of Science and Master of Architecture degrees from Lawrence Technological University. In addition to being a building enclosure and historic restoration specialist, Amanda has expertise in construction forensic investigations and have provided litigation support for building materials and systems. She has an eye for detail and a passion for building science.
Amanda has always been fascinated not only with the way buildings are designed, but also how they function. She has spent the majority of her career at SME working on building enclosures and investigating how structures work – and why they fail. She believes building has a story to tell, and she is ready to listen.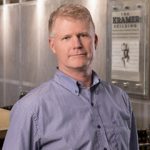 Lloyd Dubsky is a egistered Landscape Architect with 20+ years' experience in investigation and analysis of building envelope systems, 10+ years' experience in the design and development of specifications and site-specific construction plans and detail drawings for building waterproofing, and 15+ years' experience in Project Management. Lloyd has developed and serviced clients in the fields of manufacturing, education, institutional, commercial and government, and directed project and inspection personnel.
Lloyd has a Bachelor of Landscape Architecture from Michigan State University.
Teaching an Old Dog "Old" Tricks
Michael Kirk, Principal at Neumann/Smith Architecture
Daniel Schneider, Senior Preservation Architect at NORR Architects
Presentation Description:
According to the AIA, for the first time in 20 years architecture firm billings for reconstruction projects exceeded billings for new construction. Architects who perform work on building facades should know this important fact: existing buildings operate differently than newly constructed buildings do. "Old" does not mean obsolete, weak, or undesirable. Historic building envelopes should be treated appropriately to extend their longevity, which many times eclipses modern building envelope life. This course discusses how to recognize and understand existing building facades and how to properly apply appropriate treatments to them when undergoing repairs or upgrades.
Learning Objectives:
1. Classify characteristics of existing building materials/systems and describe how they
uniquely respond to the four control layers (water, air, vapor & thermal).
2. Understand established tools and guidelines for investigating building facades and be able to apply these ideas to their own projects.
3. Identity both proper and inappropriate treatments to existing buildings based on actual case studies.
4. Explain potential negative impacts of repairing, upgrading, or altering existing building facades if using treatments more suited for modern buildings.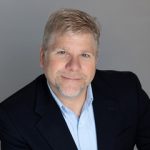 Daniel Schneider, RA, AIA, is a Senior Preservation Architect | Project Manager with NORR Architects in Detroit. He has dedicated his professional career to promoting the preservation and rehabilitation of historic structures. Dan has worked as a preservation architect for firms in Detroit, Ann Arbor, and Southfield and served as a Historic Architect with the Michigan State Historic Preservation Office in Lansing where he coordinated state and federal tax credit applications for historic properties throughout Michigan. He has a master's degree in Historic Preservation from Eastern Michigan University as well as a master's degree in Project Management from the University of Michigan. Dan is a former Executive Board member of the Michigan Historic Preservation Network and currently teaches preservation-related workshops for homeowners and commercial property owners.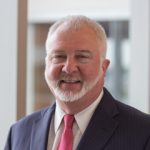 J. Michael Kirk, RA has over a 45-year career in historic preservation and sustainable design. A graduate of the University of Michigan (BS '75, March '77) his practice has centered around the Detroit area for most of his career. He is a Certified Historical Architect per the Secretary of the Interior (36CFR61), LEED AP and former Executive Board member of the Michigan Historic Preservation Network (MHPN.) Currently retired as a Principal at Neumann Smith Architecture he has also had two firms of his own and worked at several of the major firms in Michigan. Significant projects include Wagner Place (Dearborn- Fordland), City Hall Artspace Lofts (Dearborn), Wright Kay Bldg (Detroit, Bedrock), John D. Dingell Intermodal Rail Station (Dearborn), and the Grosse Pointe Academy Early School Addition (Grosse Pointe Farms.)