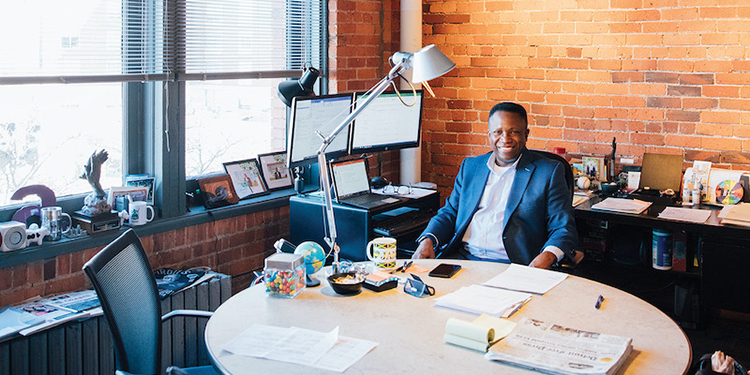 February 20, 2022
Sarah Steimer & Photographs by Sal Rodriguez | HOUR Detroit
"I was sitting somewhere yesterday looking at a workstation — at all of the cables that connect from the PC, the monitor, the keyboard, everything else — and it was a kind of a spaghetti-looking mess," says Rainy Hamilton Jr. "As architects, we like to take those puzzle pieces, that spaghetti, and try to bring some order to it. And we're doing that in a context."
Hamilton and his firm, Hamilton Anderson Associates, are puzzling together pieces of Detroit's past and future to either birth or revitalize buildings across the city. He says history and context always fuel the first step of the design process in architecture: You look at the fabric of what's already there — be it an existing building or a vacant piece of property — and ground it in what is needed today.
Hamilton's own past clearly influenced where he is today — and where he hopes to be in the future. A native Detroiter, he found his calling early and stayed on that path, excelling at art, science, and model-building at a young age. But the context that kept him in Detroit was mutual support between him and the city.
Hamilton initially remained local in an effort to stay close to his mother after his parents divorced. He attended University of Detroit Mercy and was drafted into work at a firm with two of his professors. Hamilton then moved to SmithGroup, where he spent three years before striking out on his own — and even then, his former boss at SmithGroup offered him a safety net: He was told he would be welcome back if his independent work didn't pan out.
Of course, Hamilton was successful. Now, 28 years later, Hamilton Anderson handles some of the highest-profile architecture and design projects in Detroit including The Hamilton Midtown Detroit, winner of a 2021 Detroit American Institute of Architects Award for Historic Rehabilitation. The organization's jury for the award said, "The Hamilton perfectly exemplifies the dynamic future of Detroit while simultaneously acknowledging and preserving this piece of its glorious past."
Hamilton says his team combined new features and amenities with some of the classic ornamentation of the building — such as the marble stairway and terrazzo floors — letting "history speak" in a way that creates a rich environment for the tenants.
This is the more obvious way The Hamilton Midtown (not named for him) combines the past with the present. The arguably more impactful way is that it helped to relocate its previous tenants and offered them a spot in the updated building — at the rent they were originally paying, plus a slight percentage increase and only allowing for small incremental rent increases going forward.
"That kind of effort just excites me, especially in the era of George Floyd and all of the injustice that we see across the country," Hamilton says. "These projects are important to our mission. I use this corny expression, and I'm sure my staff is tired of hearing me say it, but as a native Detroiter, to be able to rebuild Detroit one home, one block, one neighborhood at a time is exactly why Hamilton Anderson is here and exactly why we're headquartered here."