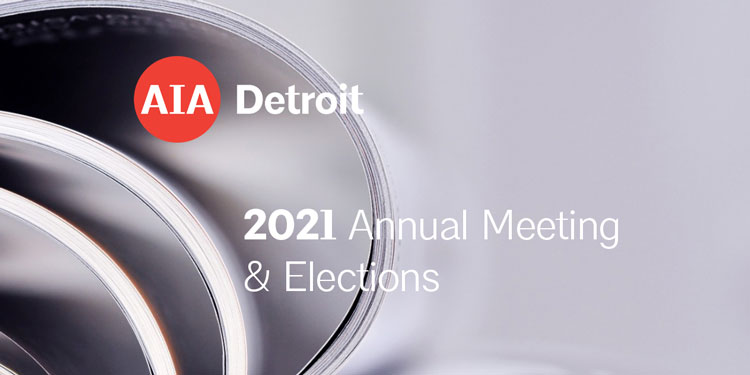 October 21, 2021
Please join the AIA Detroit Board and membership at our 2021 Virtual Annual Meeting, taking place on Tuesday, November 9th, beginning at 6:30pm via Zoom Meeting. This meeting will include the annual report to the membership; the election of the 2022 AIA Detroit Board of Directors; and a reflection on this year and how that will affect the organization going forward.
We will also include a question & answer session with questions submitted either through Eventbrite or during the meeting!
We hope you will attend! The Annual Meeting is one of the few times throughout the year that we, as an organization, can reflect on our progress and discuss the future of AIA Detroit with our members.
Those unable to attend the 2021 Annual Meeting may request an absentee ballot by emailing elections@aiadetroit.com with your name and AIA Member number by Nov 8, 6pm. Absentee ballots must be completed by 2:00pm on November 9th. (You must be an AIA Detroit Member in good standing to vote)
RSVP Here for the 2021 Annual Meeting
GET TO KNOW THIS YEAR'S SLATE OF CANDIDATES…
VICE PRESIDENT/PRESIDENT ELECT
Katie Johnson, AIA, MBA, PROSCI
AECOM
Statement of Intent & Bio:
Katie Johnson is a Principal and Vice President at AECOM. As the regional leader for AECOM's Strategy+ consultancy, Katie leads a multi-disciplinary team that works with diverse organizations on strategic planning initiatives—drawing on her expertise in both design and business to translate bold ideas into tangible results.
Katie is a Citizen Architect who currently serves as Chair of the Detroit Historic District Commission, Treasurer for the American Institute of Architects Detroit Chapter, and a Dean's Advisory Board member at the University of Michigan Taubman College of Architecture & Urban Planning. In 2017, she was selected as one of 60 emerging architects for the AIA National Young Architects Forum (YAF) Practice Innovation Lab, which resulted in co-founding JAMB Collective—a new practice model for triple-bottom-line collaboration among design firms hatched at the event—and co-organizing an AIA Michigan/AIA Detroit Practice Innovation Lab event in 2019. Prior to Katie's involvement with the Practice Innovation Lab, Katie served on AIA Detroit's Urban Priorities Committee where she led a collaborative effort between AIAD, Detroit Public Schools and the Michigan Association of Planning to host a workshop on the adaptive reuse of vacant school buildings.
Katie excels at harvesting diverse viewpoints to foster creative thinking and fuel innovative strategies. As Vice President of AIA Detroit, Katie will seek to build on the efforts of current leadership to:
• Create an AIA chapter that is inclusive and relevant to the diversity of members in our profession
• Be impactful to Detroit by leveraging our collective expertise in design, cities and placemaking
Katie holds a Master of Business Administration from the University of Michigan Stephen M. Ross School of Business, where she was honored with the 2010 "Entrepreneur of the Year" award, and Master of Architecture and Bachelor of Science in Architecture degrees from the University of Michigan A. Alfred Taubman College of Architecture + Urban Planning.
SECRETARY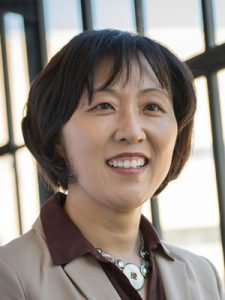 Maria Kook, AIA, PMP, LEED AP
HKS
Statement of Intent & Bio:
Believing in the power of architectural community coming together to collectively achieve the greater good is what makes me want to do more through AIA Detroit.
Maria Kook is a Vice President at HKS serving as a Senior Project Manager for healthcare and commercial projects. She leads multiple interdisciplinary teams on major projects and strives to foster the culture of collaboration and design excellence.
Maria is active in AIA Detroit Building Codes & Regulations Committee and AIA Michigan J.E.D.I. committee and has previously served in various AIA component committees and board, serving as the Secretary for AIA Huron Valley, for Planning Committee for AIA Women's Leadership Summit, and as the Regional Director for AIA Michigan Young Architects Forum. As a member of ULI and PMI, Maria would like to seek more collaboration with affiliated professional organizations.
Her mission is three-fold: (1) to advocate for the value of good design and the methodology for project success; (2) to elevate project and practice management knowledge within the profession; (3) to build more equitable and sustainable future for the profession.
Away from her desk, you may find Maria on the nearby trails and lakes when she is not herding her family and the cat. Raising teenagers has taught her a lot about leading by example and taking the long view.
Maria is a Registered Architect, LEED Accredited Professional, PMI-certified Project Management Professional and a Lean Six Sigma Yellow Belt with 25 years of industry experience. She received Master of Architecture from University of California, Berkeley.
DETROIT DIRECTOR (1 Position Available)
Jeff Gaines AIA, AICP, LEED AP BD+C
HED
Statement:
I am passionate about design, planning and sustainability and am an architect that has practiced on both coasts and (for the past 3 decades) in the Detroit area. The pandemic is changing the way we work and interact, possibly for the foreseeable future. I believe that our challenge is to take advantage of the current situation with its associated newfound freedoms and opportunities, while not losing sight of the recent progress the organization has made. AIA Detroit has been instrumental in changing the attitudes of our own local profession about practicing architecture in this City – and we have seen the resulting appeal from our members and affiliated organizations over the past few years by their increased interest and participation in our events, committees, and advocacies. I would like the opportunity as a AIA Detroit Director to continue the momentum and help guide the organization moving forward by offering my own experiences and insights. Those relevant experiences and positions include:
Past Chair of the Board of Directors, Detroit Regional Chapter of the U.S. Green Building Council
• Offered enhanced education and training opportunities through chapter program development
• Built alliances with like-minded organizations and others outside of architectural circles
• Improved coordination between the National organization and the Chapter
Continue to promote AIA Detroit for architects in southeast Michigan
• Promote additional recognition and respect for our own home-grown talents and capabilities
• Build relationships and connections with others that are influential to our profession
• Raise education and awareness of relevant issues important for our professional development
Look for additional opportunities to connect architects with the rest of the population
• Share our passions with the outside world in a manner they can appreciate and relate to
• Encourage others to support and join our causes
• Promote good design in Detroit – which helps builds community, and it is good business
I believe that good design and planning can make a positive difference – and is best accomplished collaboratively.
Bio:
Jeff Gaines AIA, AICP, LEED AP BD+C is an Associate Principal at HED where he serves as the Director of Design for the Southfield office. With over 30 years of experience in the fields of architecture, planning, and urban design, Mr. Gaines is committed to sustainable design and planning solutions that improve the well-being of those that occupy and are affected by the resulting built environments. He is the past Chair of the Board of Directors for the Detroit Regional Chapter of the U. S. Green Building Council, an organization that he has been involved with since its formation. He is also actively involved in the Detroit Chapter of the American Institute of Architects and the Michigan Chapter of the American Planning Association. He is a registered architect in the State of Michigan, and a Certified Planner with architecture and planning degrees from the University of Michigan and the University of Cincinnati. In addition, he holds certificates from the National Charrette Institute and the Form Based Codes Institute, and is also a Michigan Place Partnership Placemaking Curriculum Certified Trainer. He has also taught Architectural Design and Urban Planning courses at Lawrence Technological University, University of Detroit Mercy, and the University of Michigan.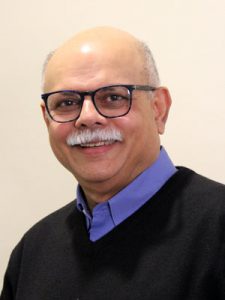 Pankaj M Patel, AIA, NCARB, LEED AP® BD+C
Albert Kahn Associates
Statement:
As a director of the AIA Detroit Chapter, I would strive to encourage young and minority professionals and inspire them to lead their colleagues and grow our industry as the national spotlight remains on our city's evolution. The AIA is a prestigious professional organization, and the Detroit chapter is uniquely positioned to lead the field within the Midwest.
For over 11 years, I have served as a board member of the AIA- Building Enclosure Council, in addition to being one of the founding members of the council. In this position, we have elevated the importance of the building enclosure and engaged critical partners across the construction industry. This collaborative dialogue has dramatically influenced our profession and the work of tradespeople, engineers, construction managers, and more. Today, the Detroit Building Enclosure Council is the go-to resource across the nation. This experience also enabled me to learn more about the operations of similar organizations, in particular how to grow membership and member programs such as mentorship.
Currently, I am a Corporate Director and the Director of Architecture for Albert Kahn Associates (Kahn). I started at Kahn in 1998 and have successfully delivered a broad range of projects for multiple industries in Michigan and across the US. I have decades of experience to bring to the table and enjoy sharing this experience with colleagues to better the profession.
I look forward to this opportunity to serve the AIA Detroit Chapter. Thank you for your consideration.
Bio:
With over 30 years of experience, Pankaj Patel is the Director of Architecture and a Corporate Director at Albert Kahn Associates. Before joining Kahn in 1998, Pankaj worked at Ghafari, Nordstrom Samson Associates, and WBDC. He was raised in Uganda, EA then migrated to India and completed his Architecture Degree from Maharaj Sayajirao University in Gujarat. After his undergraduate degree, he studied Urban Planning at UCL, London, England. He immigrated to the United States in 1982 and has worked in the field of Architecture since.
Pankaj is currently licensed in Michigan and 14 other states and has completed numerous successful projects that have received national and local AIA awards. His recent projects in the local area include the Detroit Zoo Polk Penguin Conservation Center, Cobo Hall/TCF Center, and the GM Riverfront. Outside of Michigan, he has recently finished the Erie Insurance Headquarters in Erie, PA. Pankaj recently completed eleven years as a founding member and board member of the AIAD Building Enclosure Council of Greater Detroit.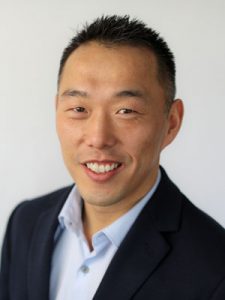 Tommy Pustulka AIA, NCARB
AECOM
Statement:
As a locally educated and trained architect, I spent my entire career working in firms throughout SE Michigan and more recently in SW Michigan. This has allowed me to build strong relationships with local jurisdictions and governing bodies, clients and developers, CMs and contractors, other industry professionals. This network has opened many doors and opportunities to elevate myself and the A/E industry I represent.
The opportunity to become an AIA Detroit Director is of interest to me as it aligns to my career goals of elevating how Architects engage the public communities and deliver services, expand the professional network, develop and excite youth and minimize the built environment's footprint.
Bio:
Being engaged and engaging others has been part of my process, which has led to many opportunities. From my very first professional juried studio project, Constantine Pappas engaged me and provided my first career experience. At Stantec, I learned how to independently engage Owners and their staff for feedback and approvals. ROSSETTI allowed me to refine my engagement process across all stakeholders at various levels. And now, AECOM has provided me the opportunity to share everything I learned with staff and hopefully our local Detroit AEC industry through the AIA.
ASSOCIATE DIRECTOR
THERE ARE NO CURRENT NOMINEES. If you are interested in this position, AIA Detroit will accept nominations from the floor during the 2021 Annual Business Meeting. If you wish to learn more about the Associate Director position, please contact the AIA Detroit staff (elections@aiadetroit.com).
AFFILIATE DIRECTOR
Brandon Kinsey, Honorary Affiliate AIA Michigan
CENTRIA
Statement:
It is with great enthusiasm that I would like to be elected the Affiliate Director position for AIA Detroit for 2022. I believe that my past board experiences with AIA would allow me to be an active participant on a variety of topics that are facing veteran and young architects today. I am a believer in working as one team to accomplish the work that is ahead of AIA Detroit. I look forward to aiding my fellow directors of AIA Detroit with the challenges of new membership, member participation, and revenue generation. If elected, I will consistently add thoughtful and constructive ideas to make AIA Detroit better.
Thank you for considering me as a candidate for Affiliate Director.
Bio:
As CENTRIA's District Sales Manager in the greater Detroit area, I oversee consultive sales of projects from design through construction. I work hand in hand with architects and engineers assisting with wall design and engineering with metal wall panels. I also manage six members of CENTRIA's dealer network.
I am a veteran member of AIA since 2002 and have served on the Mid-Summer Conference committee for 13 years. Other professional industry affiliations include the AIA Michigan Board of Directors (2012 – 2017), AIA Toledo Board of Directors (2016-2018), and Trustee of the Michigan Architectural Foundation (2015 – 2019). I will start another two-year term with MAF in 2022. I am the current co-chair of the foundation's annual golf outing. In 2016 I was the recipient of the AIA Michigan Honorary Affiliate Award.
In my 22 years with CENTRIA, I have earned President Club status for outstanding sales 14 times, President's Circle of Excellence in 2016, 2017 and achieved the company's highest sales volume in 2012. I have served as a member of CENTRIA's insulated metal panel (IMP) product development team, as well as the sales team advisory council.
I earned a Bachelor of Science degree in Construction Management from Eastern Michigan University. I currently reside in Dundee with my wife, Julie, and two children Carson and Nora.