October 20, 2020
Please join the AIA Detroit Board and membership at our 2020 Virtual Annual Meeting, taking place on Tuesday, November 10th, beginning at 6pm via Zoom Meeting. This meeting will include the annual report to the membership; the election of the 2021 AIA Detroit Board of Directors; and reflecting on this year and how that will affect the organization going forward.
We will also include a question & answer session with questions submitted by our membership through Eventbrite.
We hope you will attend! The Annual Meeting is one of the few times throughout the year that we, as an organization, can reflect on our progress and discuss the future of AIA Detroit with our members.
Those unable to attend the 2020 Annual Meeting may request an absentee ballot by emailing elections@aiadetroit.com with your name and AIA Member number by Nov 9, 5pm. Absentee ballots must be completed by 12pm on November 10th. (You must be an AIA Detroit Member in good standing to vote)
RSVP Here for the 2020 Annual Meeting
GET TO KNOW THIS YEAR'S SLATE OF CANDIDATES…
VICE PRESIDENT/PRESIDENT ELECT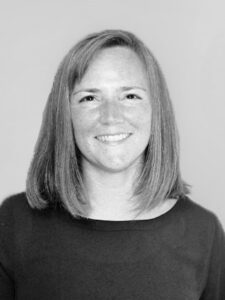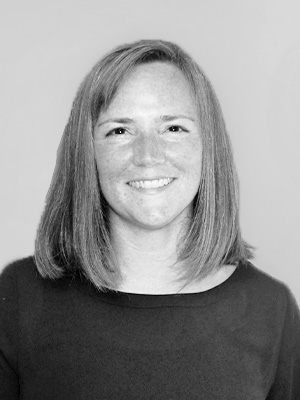 Megan Martin-Campbell, AIA, LEED AP, CSI CDT
inFORM studio
Statement of Intent:
I am honored to be nominated for the Vice President position on the Executive Committee of the 2021 AIA Detroit Board of Directors. Over the past few years, I have been fortunate to sit on the AIA Detroit Board as a Detroit Director and served as the Secretary on the Executive Committee since 2018.
I am an architect and project leader at INFORM Studio, where I bring a comprehensive understanding of design, research, and technical implementation to projects. My interest in social justice and vernacular architecture as applied to the built environment have been exhibited in various projects throughout my career such as working alongside non-profit organizations and governmental agencies in and around Detroit, Michigan. I hold a strong belief that we are problem solvers and that we use architecture as a tool for public engagement, which lead me to becoming involved with the AIA Detroit Chapter with committee participation.
Serving as the AIA Detroit Secretary has been an honor these past couple years. Working alongside other leaders in the local, state, and national Architecture community has been both eye opening and a great learning experience that I hope to continue as the Vice President of the Detroit Chapter.
Bio:
Megan is an active member of the Detroit Chapter of the American Institute of Architects and served as a Secretary since 2019, Detroit Director from in 2018, and committee chair to the House Tour from 2011-2014. Outside of the AIA, she volunteers as a member of the City of Pleasant Ridge Planning Commission and Downtown Development Authority in 2017. She has been an active participant in her alma mater with serving on studio guest juries and on the Lawrence Technological University Architecture and Design Alumni Cabinet as Past Chair.
TREASURER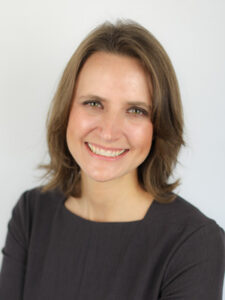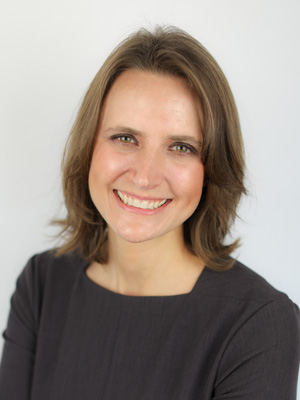 Katie Johnson, AIA, MBA
AECOM
Statement of Intent:
I would like to be Treasurer of the Detroit Chapter of the AIA because I believe effective business strategy and financial management help enable AIA Detroit to have a positive impact on members. As Treasurer, I will work to support AIA Detroit in being a good steward of membership dues, leveraging financial support from allied professions, and managing costs responsibly to provide value to members based on current needs and interests.
I have served on the AIA Detroit Board for the past two years as a Detroit Director and am excited by the opportunity to join the board's Executive Committee as Treasurer. Last year, I co-organized the AIA Michigan Practice Innovation Lab, bringing my experience with the AIA National Practice Innovation Lab to Detroit to imagine the future of practice. I enjoy working at the intersection of diverse disciplines and experiences to advance how we practice architecture and serve communities as design professionals.
Bio:
Katie Johnson is a Principal and Associate Vice President at AECOM where she leads business operations for AECOM Michigan's Buildings + Places practice. Katie also serves as Regional Practice Leader for AECOM's Strategy+ consultancy. Katie excels at harvesting diverse viewpoints to foster creative thinking and fuel innovative strategies. Her leadership approach draws on her expertise in both design and business to translate bold ideas into tangible results.
Katie's early career experience in community development—working with northwest Detroit neighborhood residents and southwest Detroit small business owners—led to a lifelong passion for serving Detroit. As an architect and Detroit resident, Katie serves on the Detroit Historic District Commission, AIA Detroit Board of Directors and Dean's Advisory Board for the University of Michigan Taubman College of Architecture and Urban Planning. Prior to joining AECOM, Katie worked as Return on Design Director and Project Manager at ROSSETTI.
Katie holds a Master of Business Administration from the University of Michigan Stephen M. Ross School of Business and Master of Architecture and Bachelor of Science in Architecture degrees from the University of Michigan A. Alfred Taubman College of Architecture + Urban Planning.
DETROIT DIRECTOR (1 Position Available)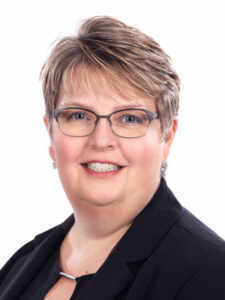 Tricia A. Beck, AIA
SmithGroup
Statement:
The challenges of 2020 have been unprecedented for society and our profession. Inspired by the amazing resilience of AIA Detroit architects and the genuine need to continue positive change, Tricia Beck is excited to have this opportunity to serve on the AIA Detroit Board of Directors.
Bio:
Tricia is the Higher Education Studio Leader for SmithGroup, one of the largest, integrated architecture, engineering, and planning firms in the US. She brings nearly 25 years of proven leadership capabilities, and an innovative eye to the projects she champions. Tricia's continuing involvement in multiple corporate leadership groups and initiatives demonstrates her ability to build consensus while working with diverse constituents and peers. Her experience on SmithGroup's Leadership Council, Higher Education Practice, Finance Committee, and Growth Initiative have focused on both talent and geographic growth as well as increasing gender diversity and the number of women in leadership roles within the firm. She looks forward to bringing that dialogue to AIA Detroit to tackle parallel socio-economic, cultural, and gender issues.
Tricia possesses a unique pairing of strategy and empathy within her problem-solving methodology. Whether she is engaged with a client on conceptualizing a design for a project or working with a team to develop new approaches, Tricia takes a strategic view. She imparts a high level of empathy in her everyday processes. She seeks to get to know people and understand what makes them tick. By achieving that level of understanding, she can know what their motivators are and works to position them for success. She values and emulates mentorship and encourages others to do the same.
As a passionate coach for the underrepresented in the design profession, she uses the process of design as a tool to encourage, guide and open opportunities to women, minorities, and members of the LGBTQ+ community. She strongly believes that being an architect is a privilege that carries with it the responsibility to foster justice, equity, diversity, and inclusion (JEDI). The focus of Tricia's work is in higher education, and that has enabled her to put these beliefs into action while working with clients to solve their JEDI goals.
Tricia is a former AIA Michigan Board Member and participated on the AIA Michigan Educational Facilities Conference Committee for six years. She understands the efficiency of collaboration between Michigan chapters in these challenging economic times. And with career experience gained by working in a small, medium, and large firm in the Detroit region, she also recognizes the challenges and opportunities of Metro Detroit practices in both suburban and downtown locales. Tricia's background will allow her to help AIA Detroit continue to develop as a more inclusive organization that works to support Architects, the design profession and all of our allied organizations, all to the mutual success of the other.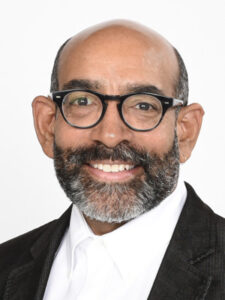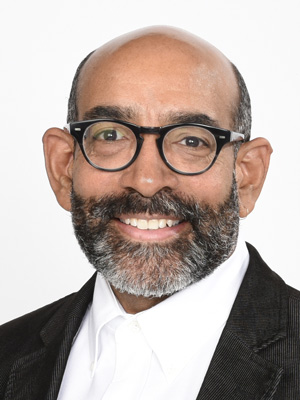 Roland F. Day, II, AIA
John Tagle Associates Inc., Sovereign AEC
Bio:
With over 34 years of experience working on a wide variety of projects, Roland's primary goal is to passionately create excellent architecture, planning and design focused on regenerating cities and enhancing the quality of urban life and culture.
Roland has been involved with multiple stages of a wide variety of projects including the renovation of the Cobo Center Convention Center, Museum of African American History [Detroit] and the Greektown Casino. Recent work includes interior/workplace design and experiential graphics for DTE and many other businesses in the metro Detroit area. Having worked for several firms, Roland has also been in private practice for over 16 years, providing professional services on residential and commercial projects.
Having traveled and studied extensively, Roland will bring his experience to bear to enhance and support the AIAD Board. He has used his leadership skills to serve the community and architectural profession in many ways, from participating on several National AIA committees and jury panels, to mentoring high school students and serving in various capacities in his church. Two strong areas of interest within the field are Diversity + Inclusion, as well as strengthening the reach of our local chapter within the metro Detroit region by developing new programs and opportunities for community outreach.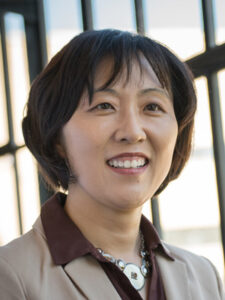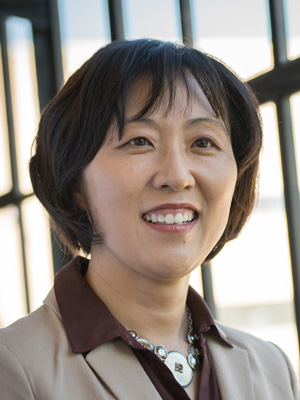 Maria Kook, AIA, PMP, LEED AP
HKS
Statement:
Believing in the power of architectural community coming together to collectively achieve greater good is what makes me want to do more through AIA Detroit.
Bio:
Maria Kook is a Senior Project Manager at HKS in Healthcare, Workplace and Mixed-Use architectural projects. She currently leads multiple interdisciplinary teams for significant and complex projects in Midwest region, and strives to foster the culture of collaboration, design excellence and accountability.
Maria is currently active in AIA Detroit Building Codes and Regulations Committee and AIA Michigan JEDI committee, and has previously served in various AIA component committees and board since joining AIA in 2006 including serving as Secretary for AIA Huron Valley and Urban Design Advocacy in 2007, for Planning Committee for 2010 AIA Women's Leadership Development Summit, NYC, and as Regional Director for AIA Michigan Young Architects Forum in 2011-12. As an active member of ULI Michigan and PMI, Maria wants to increase more collaboration with affiliated professional organizations.
Her mission is three-fold: (1) preaching outside of our profession about value of good design and methodology for project success; (2) educating design professionals about project and practice management; (3) sharing lessons from the trenches with the next generation of professionals hoping to get to more equitable future for the profession.
Away from her desk, you will find Maria walking the nearby trail or herding a cat and two opinionated children with love of winter sports with her husband. Raising a teenager and a soon-to-be-one has taught her a lot about what it means to lead by example.
Maria is a Registered Architect, PMI-certified Project Management Professional and LEED Accredited Professional with over twenty years of diversified experience and has lived and worked globally. She received Master of Architecture from University of California, Berkeley.
ASSOCIATE DIRECTOR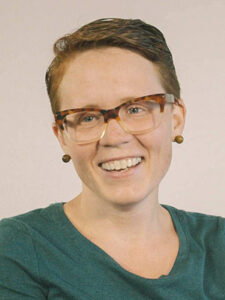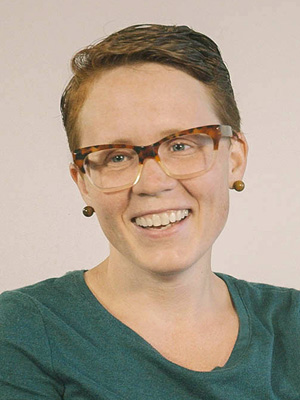 Katy Rupp, Associate AIA
Ghafari Associates
Statement:
I am honored to be nominated to the AIA Detroit Board as the Associate Director for a second year. Architecture is an industry that touches everyone, spans centuries, and all cultures. As a member of the AIA Detroit Chapter I have a role to play in engaging and educating others within the industry as well as the general public. I joined the AIA Detroit Chapter, along with other organizations to actively participate in bringing forth positive change in Michigan. By leveraging some of our current resources we can involve future architectural professionals and support current members through new and engaging experiences that will help grow a stronger and more inclusive community.
Bio:
Katy is an Immersive Design Specialist at Ghafari Associates and teaches at Henry Ford College and the College for Creative Studies. She is a member of the VR/AR Association as an AEC Committee member, a volunteer for the Interior Design Coalition for Change (IDCFC), a current advisory committee member for AIA Detroit Christopher Kelley Leadership Development Program and past scholar 2019-2020, and a Future Focus 2019 recipient for "Designing for the Unseen". She has been a speaker at a number of events regarding the AEC industry and visual engagement such as, AIA DABUG, Liveworx VRAR Enterprise Summit, and "Collaboration in AEC" VR/AR Association panel discussion. She holds a Bachelor of Science in Architecture from Lawrence Technological University and a Master of Architecture from Boston Architectural College.
AFFILIATE DIRECTOR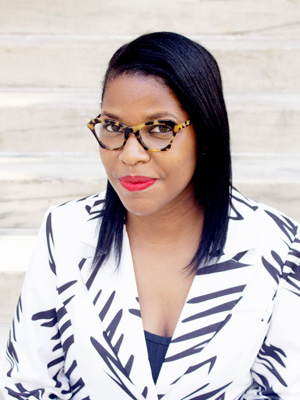 Melinda Anderson, Honorary Affiliate AIAD
Studio M Detroit
Bio:
Born and raised in Detroit, Melinda Me/Me Anderson has obtained a degree in architecture from the University of Michigan. Upon graduation from the university, her travels led her to live and work abroad in Berlin and Palermo in architecture and set design, thus developing a global perspective on art and design. Once returning to the city, a serendipitous opportunity to volunteer as a producer for an event through Detroit Synergy sparked her curiosity and led to a career change to focus on event production and design. In 2011, she became the Creative Director of Design Core Detroit. As Creative Director, she was responsible for the vision, strategy and structure of the Detroit Design Festival [now the Detroit Month of Design]. Within that role, she began to develop methods to use art, ephemeral architecture and design to thoughtfully and respectfully engage with communities within Detroit.
To date, she has engaged 3,000 designers and 12 neighborhoods throughout the city of Detroit. Another significant highlight of her work with Design Core Detroit was helping Detroit to become a UNESCO City of Design through the programming of the Detroit Month of Design in 2015. In 2017, the American Institute of Architecture (Detroit chapter) awarded Melinda the Affiliate Award of the Year. This award is in recognition of someone of esteemed character and has rendered distinguished service to the profession of architecture and fostered or promoted excellence in architecture.
In 2019, she established Studio M Detroit www.studiomdetroit.com full-time to continue activating neighborhoods and providing innovative platforms for designers and artists to showcase their work. Studio M Detroit has successfully managed events and produced events for the following:
• Movement Electronic Music Festival
• The Detroit Opera House [Bravo Bravo and the world premiere of Cyrano]
• The Walter P. Chrysler Museum
• Light Up Livernois
• Culture Lab Detroit
• The Detroit Institute of Arts [Hot In Havana]
• The Wright Museum [Design Talk featuring Marvel's Douriean Fletcher]
• Eastern Market After Dark
• Detroit Out Loud
• The DDF Design Crawl
• Drinks x Design
In 2019 Studio M Detroit was also awarded a $25,000 grant from the Knight Arts Challenge for a pop-up installation called Electric Fruit. Electric Fruit is an immersive, mobile design installation that inspires individuals in underserved neighborhoods to learn more about art and design by being presented in unexpected areas within a city. It is also a platform for black artists and designers in Detroit to gain more exposure for their work. Melinda is proud to use her considerable talents and experience to continue to produce bold and courageous event experiences that positively promote Detroit to a global audience.