December 15, 2017
by Charlie Klecha, Assoc. AIA
—On a bitterly cold Thursday morning, Bedrock Detroit, along with a host of city and business leaders, finally 'broke ground' on the high-rise that will soon occupy the historic site of the former J.L. Hudson's department store. Being the top of a parking deck, there was no ground to actually break, so dignitaries symbolically held on to golden shovels, as heavy equipment awkwardly bashed and disfigured an existing elevator tower popping out of the garage just behind them.
The building is expected to rise to 800 feet, making it the tallest in both the City of Detroit, and the State of Michigan. Bedrock's design team on the project includes a partnership between Detroit-based Hamilton Anderson Associates, represented at the event by founding principal Rainy Hamilton, Jr., FAIA, NOMA, and New York-based SHoP Architects, represented by principal Bill Sharples.
Included in the presentation were a handful of juicy new renderings, mixed in with slightly-revised versions of the views we've been seeing for the last few months. For many, these are the most highly-anticipated parts of the announcement of any new development—we in the design profession just love to scrutinize an image to see what we can glean about the early concepts for the project. In that spirit, here are three observations from the new renderings, and speculations on the fun features that these renders might imply are being considered (or are soon to be value-engineered out!).

1. Automated High-Density Parking?
In an animated section cutaway of the podium, the first lower level is shown as what looks like a pull-through valet staging area, along with a loading dock and freight elevator. Below that, the second lower level seems to show cars stacked in 3-by-3 modules. Could this be a hint at Detroit's first major high-density parking application in a downtown project? These solutions, offered by companies like CityLift, create massive space savings compared to a typical parking structure, which might be helpful in getting the promised 700+ parking spaces into the footprint. These systems are by no means inexpensive from an initial capital standpoint, but the space savings can provide impressive returns in the long term. Could this be the pioneer project that brings high-density parking to a newly-crowded downtown core?
2. Smart Decor?
Early renders have a tendency to include some flashy features that serve mostly to make a stunning image, even if no one really believes they'll make it into the final plans. Remember that flashy all-LED roof that the new arena was originally going to sport? Even Olympia later admitted that the impressive design, conceptualized by Baltimore-based Bernycz Group, was only "a placeholder". There's nothing new about this "now you see it, now you don't" routine, but for a project that's already been described as intentionally iconic, it's not a stretch to think they may actually spring for some high-end upgrades. Several renderings show hints of features like these, including what appears to be a 7-story LED wall wrapping around a circulation core at the base of the tower, readily visible through the glass facade. Firms like Bluewater Technologies, who recently opened a Detroit office just a block up from Hudson's, are seasoned pros in this kind of architecturally integrated media system.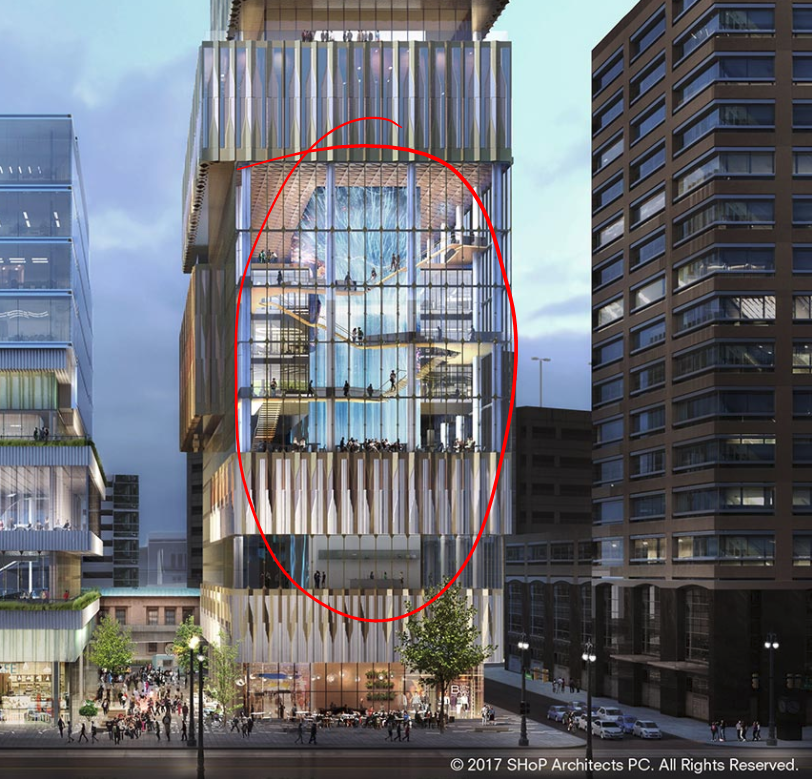 Another interesting element might be implied in the fly-by rendering that appears at the end of Bedrock's teaser video for the groundbreaking (which, amusingly, still includes a dazzling soccer stadium on the 'fail-jail' site on Gratiot–scrub to the 2:19 mark). Sure, it's only a split second in a somewhat grainy video, but the rendering includes what looks a lot like the Kinetic Rain sculpture at Singapore's Changi Airport sprawling across the northwest corner. Changi's mesmerizing installation is comprised of 1,216 solid bronze droplets, each with it's own dedicated motor, networked together in an intelligently programmed routine of undulating forms. While it's easy to imagine sitting across the street and watching this dance unfold across the entire ceiling of the podium's exhibition and event space, a feature like this—even if it was intended to make it beyond conceptual renderings—is likely to be among the first victims of VE.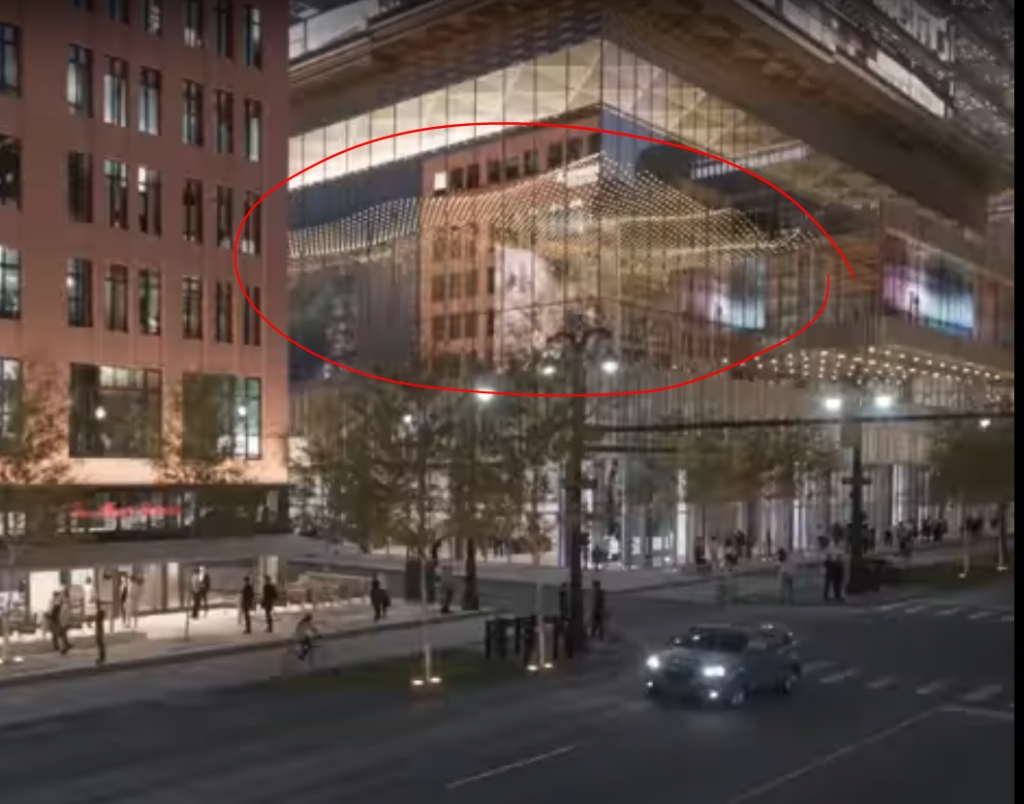 3. Stacked-Spiral Continuous Floorplate??
It's subtle, but there appears to be a reason for the oddly-offset floorplates visible in the upper levels of the podium—an area of the building identified as primarily office space. If you look carefully, the renderings, as well as the section graphic, imply that SHoP may be considering a single, continuously spiraling floor plate, wrapping four times around a central atrium, to comprise the upper floors. Rem Koolhas' OMA used this technique in their iconic Seattle Central Library, so that the library's stacks formed one continuous progression through the Dewey decimal system.  The spiral floorplate has sometimes been discussed in the context of innovative solutions to workplace design, allowing for a more open, and less siloed layout for large teams. Progressive companies like Amazon put a lot of stock into these kinds of forward-looking, human-centered design solutions—could this be part of a bid to attract a single corporate tenant with a mind (and budget) for non-traditional office design?
Bonus: Drone delivery!
If Amazon did happen to land in this splashy new development, it might not be a stretch to think they'd be interested in other futuristic amenities, like, for instance, a drone helipad on the roof!! In a delightful easter egg (alongside Santa's sleigh), SHoP included in the animated section diagram a pair of quad-copter drones, packages in tow, lifting off and zooming away from the roof. Unless the dream tenant for the upper floors is an Amazon distribution warehouse, it's not clear why the drones would be leaving with those packages, but could an idea like this really make it into final plans?
Spot anything we missed? Let us know in the comments!
Charlie Klecha, Assoc. AIA, is the Managing Director on staff at AIA Detroit. This piece is intended to be editorial in nature and does not reflect any particular opinions of AIA Detroit.